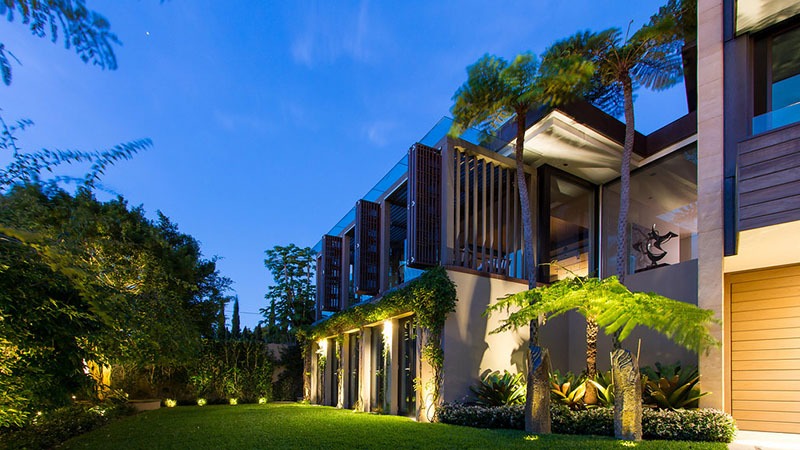 Expertly curated garden lighting can create a magical ambience, elevating the aesthetic appeal of any garden and offering a seamless blend between nature and manufactured brilliance. As Sydney's landscape garden lighting specialists, ™Bondilights understand the nuances of garden lighting, considering factors such as foliage, garden architecture, and pathways to illuminate key features and evoke a sense of wonder.
Our exclusive range of Australian-made lighting fixtures are crafted with meticulous attention to detail, using high-quality materials that can withstand the test of time and the elements. Read on to learn more about the trends in landscape gardening right now and how ™Bondilights is here to help you achieve them.
Embracing minimalist garden lighting
Simplicity meets sophistication when you opt for contemporary minimalist lighting designs. Clean lines, sleek fixtures, and subtle accents create a refined look that complements modern garden settings, making it ideal for urban homes and outdoor entertainment spaces.
The BondiLights LED Wedge Wall Light aligns perfectly with this principle, featuring a crisp, geometric shape that effortlessly complements modern architectural elements. It's unadorned surface and smooth edges exude sophistication, creating an unpretentious focal point in your outdoor setting.
Enhancing landscapes with upward lighting
Upward lighting is an ingenious technique that directs the light fixture upwards to illuminate architectural elements, foliage, or textured surfaces. By casting a gentle glow upwards, this method creates a visually striking effect, enhancing the depth and drama of your landscape.
The BondiLights LED Wedge Wall Light effortlessly embodies this trend with its unique up-and-down lighting capability, allowing you to highlight the beauty of your outdoor space in a subtle yet impactful manner. Accentuate your landscape's key features with a soft wash of light along the exterior walls of your home, showcasing architectural details and adding a touch of refinement to your facade.
Pro tip: Graze light up textured surfaces with the LED Wedge Wall Light, such as stone or brick walls, lending an exquisite touch to the overall look.
Related Post:
Hardscape landscape lighting
This versatile landscape lighting technique focuses on illuminating various hardscape elements in your garden, including stairs, pillars, walkways, and edging, elevating the overall aesthetics and enhancing safety during the night.
By employing soft, downward-pointing lights, this trend brightens dark areas and serves as a perfect tool to accentuate specific ornaments or features around your home, making it an ideal choice for gardens with sculptures, fountains, or other eye-catching installations.
Hardscape lighting takes a holistic approach to landscape illumination, seamlessly blending functionality with elegance. By casting gentle, downward-focused illumination onto the hardscape elements, it creates an enchanting interplay of light and shadows that beautifully enhances the structural aspects of your outdoor living spaces.
Hardscape lighting is a testament to landscape design's seamless integration of form and function. It transforms your garden into an enchanting wonderland and adds a practical element to your outdoor living spaces. By harmonising soft, downward-pointing lights with the structural aspects of your garden, you create a mesmerising nocturnal sanctuary.
Deck lighting in landscape design
LED deck lights have become popular among landscape designers and homeowners due to their versatility and ability to create captivating visual effects. By discreetly fitting into the surface of decks, walkways, or staircases, these unobtrusive fixtures provide a soft, ambient glow that adds depth and elegance to the entire landscape.
LED deck lights serve more than just decorative purposes; they offer practicality by guiding paths and delineating boundaries in your garden. When strategically placed along walkways or stairs, these lights ensure safe passage at night, reducing the risk of trips or accidents while evoking a magical ambience. Using energy-efficient LED technology, this fixture provides minimal power consumption without compromising on luminosity, allowing you to illuminate your landscape responsibly and sustainably.
Path lighting: Enhance safety and visibility
Path lighting has emerged as a timeless and popular trend, sought after for its practicality and the aesthetic charm it brings to outdoor settings. By strategically placing lighting fixtures along walkways, driveways, or garden paths, the landscape transforms into an enchanting nocturnal realm, beckoning guests to explore and indulge in the allure of the night.
The BondiLights LED Bollard Slim beautifully embodies the essence of path lighting, offering a slender and elegant design that seamlessly integrates into the landscape. Its minimalistic stainless-steel construction exudes a contemporary charm, ensuring it complements various architectural styles, from modern to traditional.
The primary purpose of path lighting is to enhance safety and visibility during the evening hours. If you incorporate an even and warm illumination that gracefully guides the way, you can prevent trips and falls while creating a sense of security and comfort as you traverse the garden under the starlit sky.
Beyond its practicality, path lighting offers a brilliant opportunity to define boundaries and showcase the beauty of your landscape. Delineate the edges of pathways or accentuate specific landscaping elements, such as lush foliage or charming flowerbeds. This interplay of light and shadow adds depth and visual interest, making your garden a captivating work of art.
Sydney's garden lighting specialists today
Bondilights are Sydney's landscape lighting specialist, delivering exemplary services and helping homeowners curate the perfect garden ambience. From initial consultations to installation, our expertise ensures that every garden is an oasis of serenity and beauty, tailored to each client's unique preferences.
Illuminate your garden with Australian-made lighting masterpieces that reflect the soul of Sydney. Let our exquisite designs guide you through the enchanting landscape lighting world today! Speak with one of our lighting experts to understand how our wide range of products can create something special in your space. We'll work closely with you to understand your tastes, goals and the perfect options to suit your home and exterior design.
Contact Us by Phone

Contact Us by Email