AUSTRALIAN OWNED AND AUSTRALIAN MADE
EXTREMELY LOW ENERGY CONSUMPTION
Our lights are up to 80% more cost effective to run than traditional lighting.
Our lights are available in either 316 Marine Grade Stainless Steel or Solid Copper. The Piccolo range is available in 316 Marine Grade Stainless Steel, Solid Copper or Solid Brass. The materials are non-corrosive and ideal for coastal environments.
Our lights are engineered to last.
At 6 hours a night, 7 days a week – that's approx. 30+ years.
Our lights are robust, reliable and elegant.
Our lights do not contain hazardous materials such as mercury or lead.
Our LED lights are cool to touch.
The lights will not burn people, pets or plants.
Our LED lights do not attract insects or mosquitos like other lights, as they do not emit Ultra Violet (UV) or Infrared (IR) and are not 'hot' lights.
Our extensive range of accessories has everything needed to complete a light system.
Directional light efficiency – no light pollution & neighbour friendly.

Our lights are available in either a spread of 45 or 120 degree beam.
Bondilights can also supply lights with 10 degree lenses to illuminate distant objects such as the under canopy of a 20 metre palm tree. Lights with the 10 degree beam can be made to order.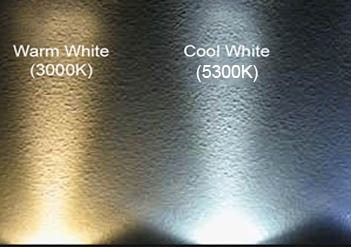 Colour temperature is conventionally expressed in kelvin, using the symbol of K.
Colour temperatures over 5000K are called cool white, while lower colour temperatures of 2700-3000K are warm white.
Bondilight supplies lights in both warm white and cool white colour tones. There is also a custom 'Lush' tone, which is a combination of warm white with green. This is not available in all styles of light.
INGRESS PROTECTION
(IP RATING)
The Bondilights Outdoor LED Light Range is made to meet the most stringent guidelines for outdoor use.
The majority of lights are rated IP68 which means they can be used underwater.