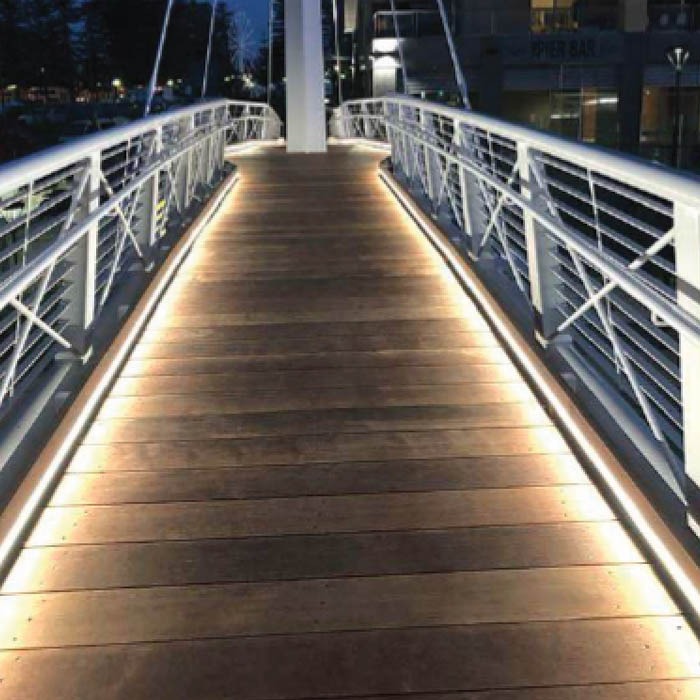 Outdoor lighting truly is an art form. It is a delicate dance between ambience and functionality, and among the many ways to infuse brilliance into your outdoor oasis, outdoor strip lights are one of our favourites.
These unassuming yet powerful fixtures can turn an ordinary garden path into a runway of radiance or transform a quiet patio into a vibrant entertainment hub.
There is no shortage of options in outdoor strip lights, so how do you pick the best? This is where the expert team from Bondilights, the landscape lighting specialist Sydney trusts, can help. Read on for some creative inspirations that will brighten your space while adding elegance and panache.
The LED Bollard Slim: A versatile lighting fixture
Crafted from high-quality materials like 316 Marine Grade Stainless Steel or Solid Copper, the LED Bollard Slim exudes elegance and ensures durability. Its sleek design makes it ideal for strip lighting, adding a touch of refinement to pathways, driveways, lawns, steps, and gardens.
One of the standout features is its adjustable height. This flexibility allows you to customise the lighting according to your specific requirements. Whether you want a subtle strip of light at ground level or a more prominent illumination slightly elevated, these bollard lights can be tailored to suit your preference.
The availability of both Warm White and Cool White colour options lets you play with ambience. Warm White creates a cozy, inviting atmosphere, perfect for intimate gatherings, while Cool White delivers a modern, crisp illumination, ideal for contemporary outdoor spaces. You can select the colour that complements your garden's overall theme and mood.
Pro tip: When strategically placed, the LED Bollard Slim can be installed so that the light emanates in a continuous, unbroken line, mimicking the effect of traditional strip lights. This seamless integration enhances the visual appeal of the outdoor space, providing a polished and cohesive look.
True longevity with the LED Path Light
Our LED Path Lights, available in high-quality 316 Marine Grade Stainless Steel or Solid Copper, offer another great strategy to create strip lighting effects in outdoor spaces.
One of the key features of LED Path Lights is their flexibility. They can be customised in both height and bend to suit specific requirements. This flexibility allows you to create unique and intricate strip lighting designs, contouring the lights along pathways, garden borders, or any other desired outdoor features. The ability to bend these lights ensures that they can follow your landscape's natural curves and contours, providing a seamless and continuous strip lighting effect.
These path lights offer longevity as the high-quality materials ensure that the lights resist corrosion and environmental wear, making them ideal for long-term outdoor use. As they are available in various sizes, this allows for a lot of creative freedom. Whether you prefer a subtle, understated strip lighting effect or a bold and prominent illumination, you can choose the size that best fits your vision. The different sizes cater to a range of applications, from illuminating narrow garden paths to outlining expansive driveways.
Pro tip: Our LED Path Lights suit various outdoor settings, including paths, driveways, lawns, steps, and gardens. This versatility means you can use these lights to create strip lighting along pathways, around garden edges, or even to highlight specific landscape features.
Outdoor strip lighting design ideas
One of the most popular uses of outdoor strip lights is to line pathways in your garden or backyard. However, there are some other design strategies you can try, including:
Outlining the borders of your flower beds or garden patches with strip lights. This subtle illumination can transform the look of your garden at night, highlighting your plants and landscaping features.
Installing strip lights along the edges of your deck or patio. They can serve as practical lighting for these areas while creating a cozy atmosphere for outdoor gatherings.
Mount strip lights under railings, whether on your deck or balcony. This creates a soft, indirect glow, providing ample lighting for socialising without being harsh on the eyes.
Illuminate your outdoor stairs with strip lights by installing them along the edges of each step to ensure safety and add a stylish element to your staircase design.
Use strip lighting to accentuate specific features in your garden, such as statues, water fountains, or architectural elements. The focused illumination draws attention to these focal points, creating a visually appealing effect.
Wrap outdoor strip lights around the trunks of tall trees in your garden for tree uplighting. This creates a magical, ethereal ambience and adds depth and dimension to your outdoor space.
If you have an outdoor kitchen or bar area, install strip lights under counters and cabinets. This not only aids in food preparation but also adds a trendy, contemporary vibe to your outdoor culinary space.
Outline the perimeter of your swimming pool with strip lights. The gentle illumination enhances the visual appeal of the pool area and provides safety for nighttime swimming sessions.
With a varied range of customisable options, Bondilights ensures that you have the freedom to design a look that you'll love. Our team are always on hand to answer any question you may have, offering design tips to help you achieve a look that you will love.
Design your strip lighting with the garden lighting specialist Sydney trusts
Bondilights offers a mix of technology and exquisitely designed landscape fixtures. With years of experience, we have honed our expertise in outdoor lighting design thanks to seasoned professionals who understand the nuances of outdoor spaces.
By embracing the latest advancements in LED lighting, we ensure that our selection is energy-efficient, delivering superior illumination to transform outdoor spaces with exquisite design. Each landscape fixture is meticulously crafted, marrying form and function seamlessly. The result is a range that enhances the visual appeal of gardens, pathways, and outdoor living areas. View our full range of strip lighting here.