As summer draws to a close and nights become shorter it does not mean that you have to suddenly say goodbye to evenings in your garden. Whether it is for a ball game with the kids or a spot of dining under the heaters, your garden can still be a casual feature in your life throughout autumn and winter if you turn your night garden into a warm and inviting space with a beautiful outdoor lighting design.
Not only will outdoor lighting transform your night garden into something magical, but it will deliver security and safety too. And there are so many different ways you can illuminate your backyard. The experts at Bondilights can point you in the right direction and give you all the best garden lighting ideas for 2022.
Let's get down to work and explore some stunning lighting designs that will be popular for years to come.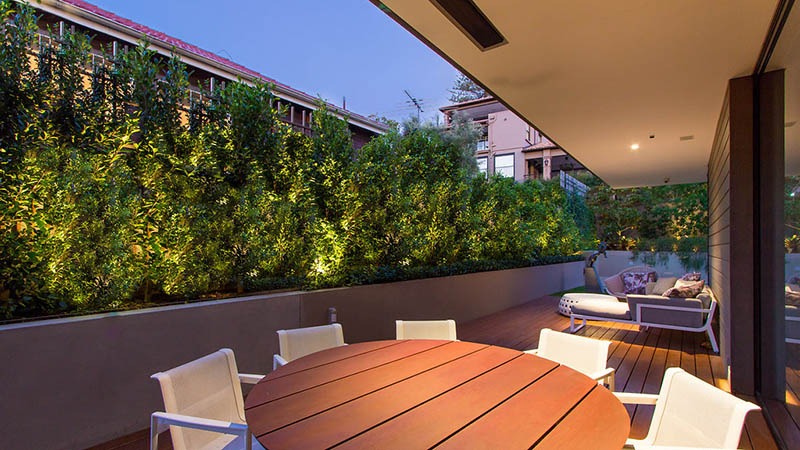 Alfresco dining 
There are many options available with alfresco dining but we recommend the LED Wedge Wall Light which you can focus on your dining table so that guests can see what they are eating and drinking. Overhead outdoor lighting could work too so long as the light is not too bright.
If your deck is close to a large tree, consider tree-mounted fixtures that will create pools of light on the deck.
Path Outdoor lighting 
Your path is one of the most important features to light up at night for the safety of your family and loved ones. You won't need high illumination but consider lighting the path to your front door with our LED Slim Bollard or Piccolo 40 which work well recessed in your garden beds.
Step Outdoor lighting 
Another garden feature high on the priority list is your steps or stairs. There are a number of ways you can brighten up your steps to prevent potential injury. If you are building the stairs from scratch consider embedding recessed lights into each step for style. Or install lights in the riser of the step and watch the light thrown down from the centre of each step. You might want to attach lights to either side of the steps in which case the Piccolo 20 with hat is perfect for this.
Feature Outdoor lighting 
While outdoor lighting is necessary for safety, it can double up as illuminating features. Showcase your water fountain or Buddha sculpture with an ambient glow using our LED Path Light. While water features deliver tranquillity to outdoor spaces, they are even more special when lit up.
What about an old tree you want to give prominence to? Have some fun with the lighting and create a contrast between light and shadows. Our LED deck circle light will send light upwards giving an indirect effect while adding a layer of style.
Trees and greenery outdoor lighting
Trees are stunning when you uplight them to showcase their trunks' textures while adding softness to surrounding foliage. Our LED slim bollard is perfect for illuminating tall trees and its height can be adjusted to achieve the desired effect.
Shrubbery 
Place uplights behind your shrubs or plants. Are your shrubs nestled in mulch beds? Hide the above-ground light to give the display an air of mystery. You will want to avoid a continuous flood of brightness so place the outdoor lights far apart. The LED garden spike is ideal for this.
If your shrubs or trees are positioned in front of a wall or fence, consider creating a silhouette by focussing a row of lights at the wall of your house instead of the shrubs.
Wall outdoor lighting 
You should never overlook your walls. Throw a soft wash of light over them with the LED Wedge Wall Light and draw attention to their textures and brick detail. Wall lights add a finishing touch to the outside of your home while increasing your home's level of security.
Fireplace 
Do you have a fireplace or fire pit? Often one of the most stunning features of your garden, especially when placed at the heart of your garden, your fireplace could be illuminated with staggered and recessed light fixtures such as the LED deck circle light. Watch your fire feature become the star attraction as Its lights draw attention to nearby foliage and small tree branches.
Front door and doorway 
You want your visitors to find your front door and arrive safely at your entrance, so ensure your house number is lit adequately with up or downlight lights such as the LED cube wall light up and down.
You also don't want to tarnish what could already be one of the most charming features of your home with too bright lights. Think of using subtle ambient lighting. That way, your visitors won't be blinded when they arrive at your door. If you're lucky enough to have pillars or columns in your doorway, consider attaching lights to these to create an intriguing atmosphere.
Driveway 
Give a try to low-voltage landscape lights installed on both sides of your driveway. The LED pole light is perfect for this application.
The BBQ 
Whether you are cooking up a storm on the barbecue or hanging around chatting about the latest reality television series or sports game with friends, we have the light for you. The LED pivot light is an excellent choice for the BBQ and the LED wedge light up and down is ideal for washing light up and down that uniquely textured wall behind the barbecue.
Strip lighting 
For something a bit different opt for strip lighting. Use it to outline plant beds or embed coloured LED strip lighting into concrete to divide the patio space and other areas of the garden for the atmosphere.
Final thoughts 
We have covered many different types of outdoor lighting you can incorporate into your garden lighting design this year. Give your garden that extra buzz after dark and consider hiring a specialised lighting company like Bondilights. We can help you make the right choices and at the end of the day, all you need to do is sit back and enjoy your newly illuminated garden.