Outdoor LED Stair Lights
You no doubt, take pride in your home and are continually looking for new ways to improve its appearance for your own enjoyment and that of your guests. It's also great when you find improvements that have a functional benefit as well, which is why homes with stairs will love the incorporation of LED stair lights as a feature.
Stairs are a significant visual feature in your home, but it can be tricky to make them look anything other than dull as they are easy to clutter.  LED stair lights not only look great but make your stairs a lot safer, especially when a family member gets up in the middle of the night for a trip to the kitchen.
With over 15 years of experience, Bondilights are a pioneer LED garden lighting specialist and the best people to turn to if you are considering LED stair lights for your home. Let's delve into some information on them to understand their many features and benefits a little better.
Staircase LED Lights
People often overlook the staircase when it comes to  the design aspect, as they see it as a specifically functional element only. By adding LED stair lights, you can completely change the look of this section of your house.
Illuminating your staircase low and close to the floor makes it easier to walk up, and you can get creative with the pattern of your lights. There is a wide range of options available, meaning you can match the lighting design to the feel and style of your home and garden. Whether you want to create a low-lit ambient effect or really brighten up this section of your home, the options are there.
No matter what type of step you have, you'll be able to blend it well with LED lights. From small cases to larger features there is a light to match. The main things to keep in mind is the electrical outlets available and whether you are aiming to fit your lights in the wall, or on the actual steps as a laid-in addition.
Planning your outdoor LED stair light design
The significant amount of choices in the world of LED stairwell lighting means that design styles can advance further than just one light fixture mounted up high to illuminate your stairs. The rise in popularity of step lights broadens the spectrum and works well in the gardens of homes with an ultra-modern design or something that lends itself to a slightly more classic style.
The main thing to remember when it comes to designing the layout of your stairway lighting is to illuminate the steps evenly while being as subtle as possible. Linear strip LEDs are a great way to do this if you mount them under the nosing of each step. They can also be mounted into the sidewalls, or be installed below the handrail.
All of this achieves an even light presence while letting you play with whichever idea works best in your space. LED stair lights that are mounted on the underside of the handrail provide safe, subtle, and continuous illumination, creating a unique effect that is as stunning as it is functional.
If you are in the process of building or renovating your home, even better. It is a much simpler process to design the electrical outlay of your LED stair light design while building the staircase making the lights a more subtle and cohesive inclusion. That being said, no matter what your current staircase situation is, Bondillights can work with it, within whatever budget you may have in mind.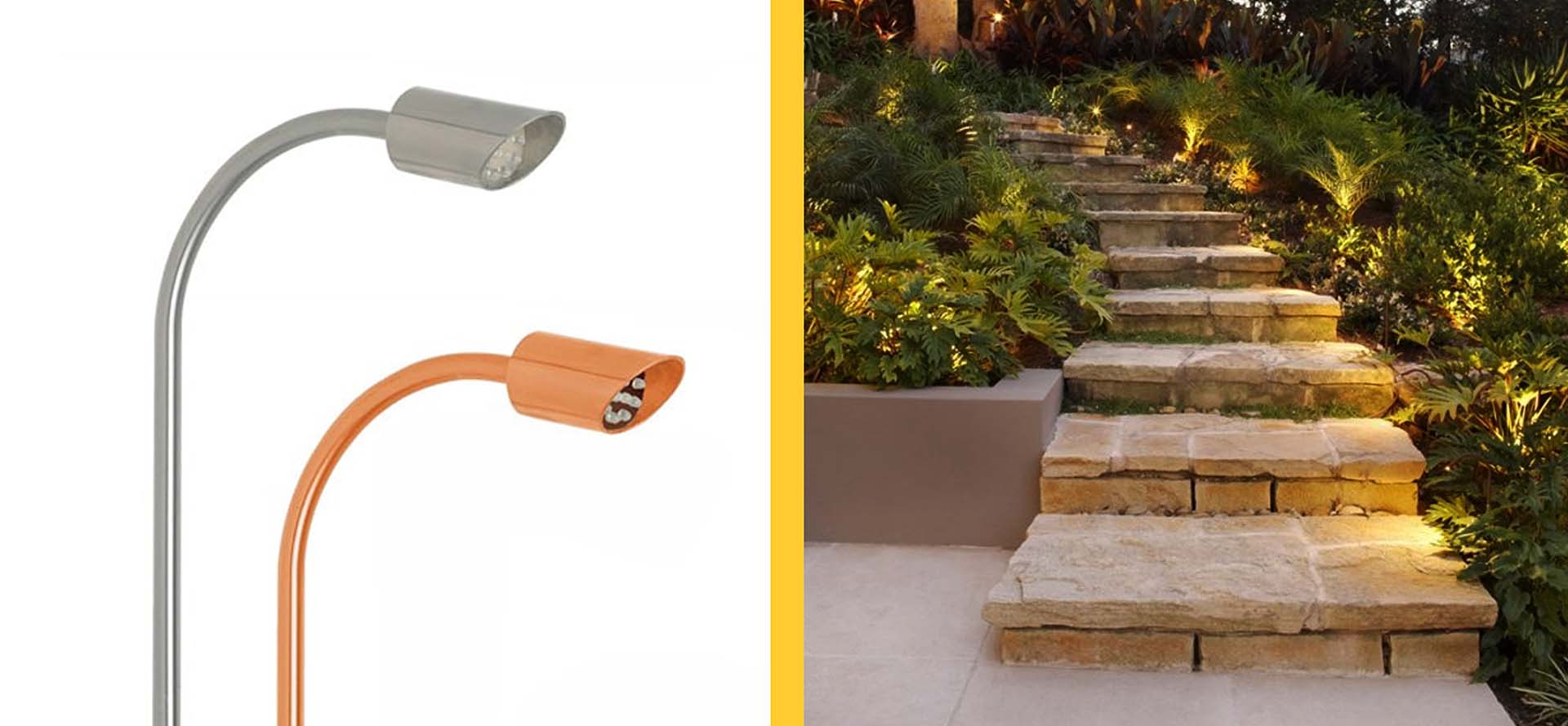 Picking the right colour for your LED Stair Lights
Another benefit of working with LED lights is the colour options available. You'll want to choose a colour temperature that works with the rest of the lighting in and around your house. For example, is most of your home at full brightness? Or do you use the dimmed incandescent look a lot? Consider how the stairs, which act as a connector between rooms will look in conjunction with the areas on either side.
You can find dimmable lights that won't draw a lot of power, meaning they can be left on at night, making it easier for people to navigate their way up or down the stairs if having a late-night garden party. This is also a more environmentally- friendly way to illuminate which will keep the electricity bill to a minimum as well.
Where to start with your LED stair lights?
We don't actually expect you to be an LED light expert. It's why we are here. Bondilights, a pioneer LED lighting specialist, can help you with your LED lighting design while letting you know which products are the best for your situation. We focus on innovative technology, beautifully designed landscape fixtures, and the best outcomes which are uniquely tailored to each client.
We began as the antithesis to halogen lights, offering design and manufacture of LED lights, which we know are less expensive to run and more durable. The long-lasting nature of LED  lights won us over as we began to delve into the extensions of their capabilities, including the light system, timer sensor, remote, and of course, the fitting. The exceptional features of LED lighting had us hooked, and we grew into one of the leading lighting companies in the world.
So our expertise in this area, along with our quality LED lights, easy installation process, and ability to create the desired lighting effect that works best for your home, makes us the perfect people to speak to. Talk to us today and be impressed and amazed by our hassle-free system, and you'll be well on the way to home lighting that you and your guests will adore for years to come.