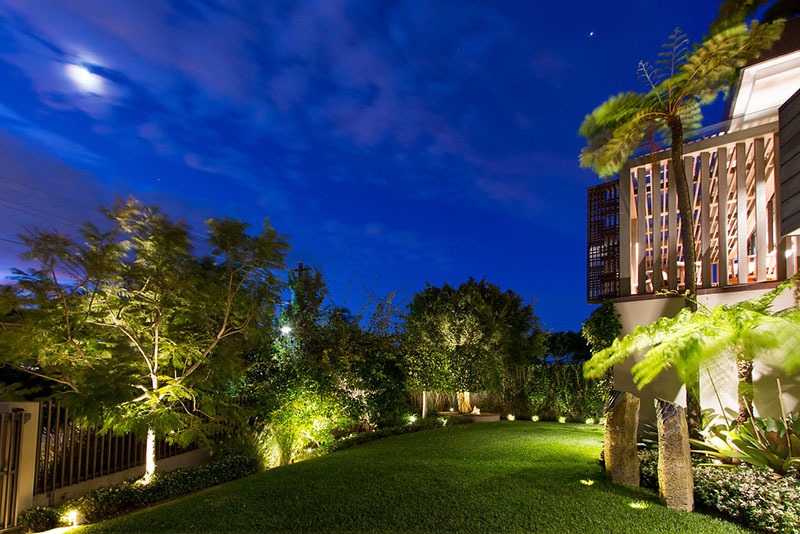 Wouldn't you agree that gardens are still meant to be enjoyed once the sun has set and night-time kicks in? If you want to take advantage of your garden at night, outdoor lighting is your answer.
However, there is an art to outdoor garden lighting.
Get it right and you'll create a beautiful outdoors space where light and shadow work together to give you an irresistible place to relax and entertain. Get it wrong and you could have a costly eyesore that keeps you and half of your neighbours up at night and promises to give you expensive power bills.
We at Bondilights are going to explain how it's done right.
When it comes to your garden lights, there are four essential concepts – safety, security, ambience and entertainment.
At Bondilights, leading landscape lighting specialist Sydney, we have over 15 years' experience enhancing Sydney's homes, so we know what it takes to turn a dark and drab landscape into a space you'll never want to leave once the sun has set.
Here are some insider tips on what you need to brighten up your garden.
Safety always comes first
Your primary focus when installing outdoor lighting is to ensure that you keep you and your guests safe from harm by lighting up paths, walkways, retaining walls and steps. You might be very familiar with your backyard, but moving around at night can easily lead to a nasty fall.
When illuminating a path, it is best to keep things simple. You just need enough light to guide you to safety, not the type of light that blinds you while you're trying to navigate your way. Our LED path light will give you ample visibility without blinding you.
Outdoor lighting installed for safety purposes can also help you take more advantage of your home's utility areas. If you enjoy swimming in the pool at night or cooking outside, safety lights guide you safely from one area to another.
Make security your priority
When you think about garden lighting you probably picture a beautifully lit entertaining area surrounded by family and friends. But outdoor lights help secure your home too.
Just ensure that you keep all access points to your home illuminated to deter potential thieves. You might want to install an LED deck circle light on either side of your garage to light up the space. For added protection, add motion-sensor lights keeping the light pollution in your garden to a minimum.
Here's hoping you will never need your garden lights to keep your home safe, but there's no harm in installing an extra eye-catching layer of security.
Task lighting for those much-needed tasks
Not all lighting concepts have to be designed in the same way.
A uniform approach to outdoor lighting will leave your paths well illuminated but your patio entertaining area far too bright. Task lighting brightens specific purpose areas such as steps, paths, BBQ stations and outdoor kitchens.
You will need ample light to cook and prepare food. However, when you sit down to eat the food with your guests, you will need a softer, more ambient light. The tip to a well-lit outdoor space is pointing light where you require it but at no other location. Think hanging lights, string lights and wall lights like our cube wall light for accent lighting rather than direct illumination.
Subtlety is key to entertaining
No-one wants to sit down to eat with a spotlight glaring in their face. Outdoor lighting in spaces where you will be eating, socialising or relaxing should be subtle and appealing.
Rather than illuminating your outdoor patio in harsh light, create ambiance and intrigue with indirect lighting. You might want to embrace LED strip lighting for that subtle glow.
A word of advice, you could  add a dimmer so that you can control the atmosphere as you see fit. Turn the lights up while cooking on the BBQ and dim them for a calming and relaxing meal.
Maximise your garden's features
Who says that your garden should offer only daytime enjoyment?
Enhance your garden's focal points with lights that elevate and highlight those unique features. This might be a natural feature, like an ancient tree which would glow perfectly with our LED garden spike. If you have a man-made feature such as a backyard fire pit or large statue, bring it to life with an LED up and down light. By playing around with light and shadow, you will add depth and harmony to your garden, transforming it into a work of art.
When you create focal points, you will be able to enjoy your home by day and night. You won't need to wait for the sun to rise to show off your garden's best features. Your outdoor spaces become a living canvas, and you get all day and all night  to enjoy it.
Add drama to water features
Whilst a water feature is already a focal point in your garden, you want to draw attention to it as much as possible when the sun goes down – after all, you don't want to accidentally fall into it.
When it comes to illuminating water features, less is more. Overdoing the lights only creates a chaotic and messy look. Thankfully, we have a large range of lights suited to enhancing water features so you will never be short of options.
Our LED path light can be bent, allowing you to angle light where you want. This will create depth with delicate shadows at play, or direct the light towards the water's surface for a stunning ripple effect.
The correct positioning of lights is crucial, so take some time to find your ideal lighting spots. Or contact our lighting experts for the perfect landscape outdoor lighting design.
Looking for help with your outdoor lighting?
The experts at Bondilights can transform your garden into a space you won't want to leave when the sun sets. Relax with a glass of wine, cook food and enjoy a meal, or just linger around your outdoor space knowing it's safe, secure and designed to make your whole property enjoyable every day and night of the year.
For a garden lighting specialist Sydney, call Bondilights today to make your outdoors even more captivating than your indoors.