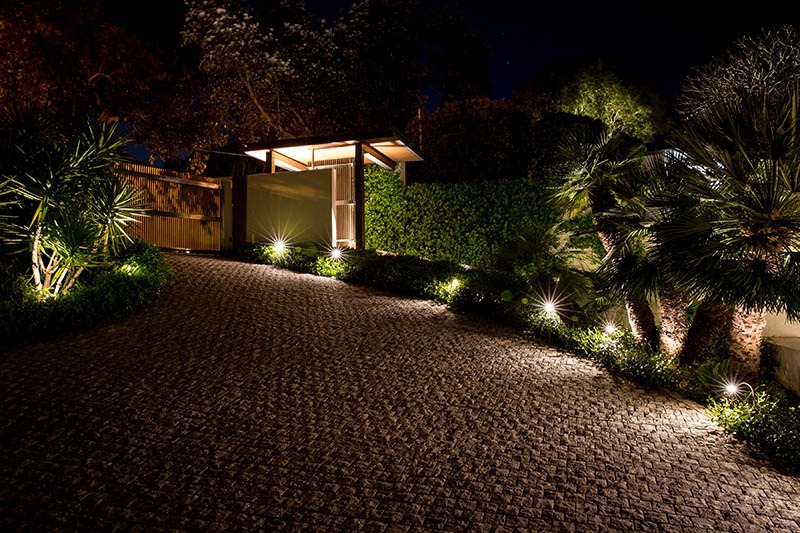 Some might say that the grass is always greener on the other side but not when it's on the other side of daylight. At night, the grass is pitch-black. That is if you don't have a well-crafted landscape lighting design. A well-planned lighting design will make your home look absolutely stunning and be a real hit with your family and guests.
And think about those leisurely strolls you take at dusk. Do you take in the mystical glow that comes from the odd home along your travels? Let's face it – we all do it when we go for a walk at night. But do you also yearn for the same illumination radiating from your garden? Think about the beauty you could create with a tastefully lit landscape and the pride you'd feel upon walking up to your front door after a walk around the neighbourhood.
The good thing is that whatever the size of your backyard and front garden there are so many ways you can enrichen your outdoor space. It's not so much about the lights you use  it is more about where you place them. With a professionally well-designed outdoor lighting scheme, you will wow not only your family and guests but yourself too after a night-time leisurely stroll. And we at Bondilights are going to help you achieve the best lighting design you'll find in your neighbourhood.
We have put a list together of the best places to position your lights for the technique you wish to achieve.
Highlighting
With highlighting you can create shape, colour and form. Start by placing our LED slim bollard to act as a spotlight at the base of a feature, such as a statue, water feature or wall. Play around with the angle and distance to give you the desired highlight effect. The closer the light is to the object, the more detailed the area highlighted.
Silhouetting
Silhouette lighting can create a dramatic effect. Start by adding a spotlight behind the feature and aim it at a fence or wall. You'll see the object silhouetted against a soft light background. You might need a few light fixtures to give you the desired effect. For a striking result use dense subjects such as well-manicured evergreen shrubs, planters and trees with full foliage.
Shadowing
Create a magical accumulation of shadows on the walls or building façade by washing a feature with soft light and illuminating the background surface. Use our spike light angled upwards to create a huge shadow bigger than the subject.
Play around with distances and angles and choose plants that provide movement with the wind, like ornamental grasses, for that mysterious visual.
Washing
Washing is a technique that uses an indirect angle of light to deliver a soft, ambient glow. It is most often applied to walls and rows of shrubs.
Our LED wedge wall light is perfect for this application. Its wide angle and low wattage is preferred over a spotlight. Experiment with angel and height to achieve the best result.
Up-lighting
Most often, this is light from below that can be used to wash, silhouette or shadow. Install a light in the ground, such as the Piccolo 20, to create a contrast of shadow and light for varying depths of an object's wall. This will deliver a majestic and stately focal point.
Down-lighting
Is attaching a light to a tree or structure such as a building or wall and aiming it downwards, the results may vary. For example, when attached to a home, under the eaves, you will highlight the structure of the house. By attaching the light to a tree, you can create what's called the moonlight effect, which gives you the image of moonlight shining through the tree's branches.
Moonlighting
As discussed in the previous section and true to its name, moonlighting creates a glow similar to moonlight. Just place the light fixture high inside the tree's foliage and angle it downwards.
This will give you some interesting shadows on the ground created by the leaves and branches, and a soft glow from within.
Accenting
This technique is applied to draw attention to a feature such as a statue. Accenting involves using down-lighting and up-lighting to accentuate the object. It creates a stunning contrast of shadows.
The trick is to use a narrow beam of light from a hidden fixture and focus all the light on the object itself. Our LED deck light is ideal for this application.
Path-lighting
Just because you want your paths to be fully visible at night for you and your guests, it doesn't mean you can't give them a romantic and intriguing experience at the same time.
Place LED path lights along your path or walkway but be careful they are not in the firing line of a mower. Angle them downwards to avoid dazzling glare and experiment with down-lighting techniques to really emphasise surrounding shrubs and foliage.
In-grade
In-grade lighting is normally installed at the base of a stone wall or other concrete feature. Our Piccolo 20 with hat is ideal especially when other light fixtures might cause a tripping hazard.
Pools, spas and ponds
Lighting fixtures positioned at either end or spaced along a side wall are the most practical locations. The LED circle wall light – recessed is perfect when you have moving water. It creates a striking visual on the water's surface.
Final words
When done right and positioned correctly, landscape lights can transform your home and garden into spaces of charm and mystery. But designing your landscape lighting is about more than just choosing the right fixtures and locations. It's also about artistry. Achieve your dream lighting scheme with our talented Bondilights, garden lighting specialist Sydney. Contact leading light specialists Bondilights Sydney today.