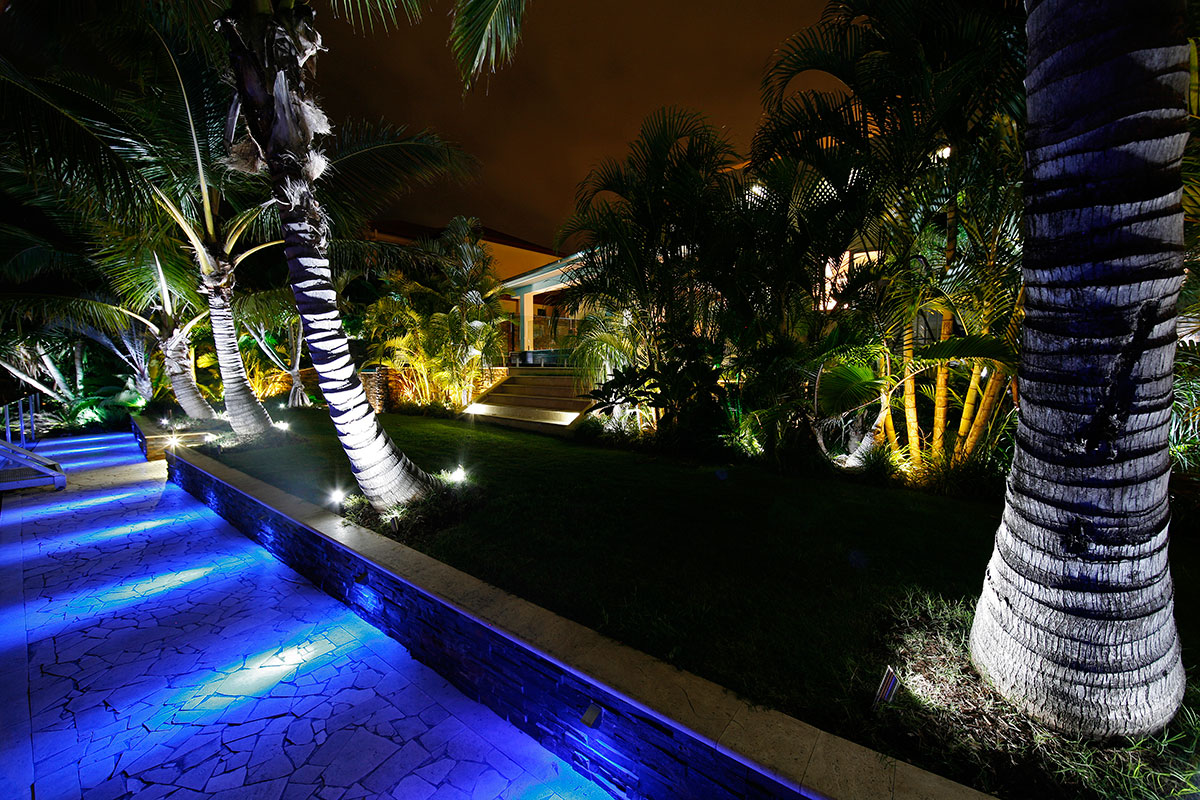 How we yearn for summer to make itself known. Those warm summer nights spent in our gardens lie ahead with open arms. What better time it is to now modify and upgrade our outdoor living spaces. If you have stumbled upon any modern backyards lately you will realise that the decks of today are fully functioning outdoor rooms.
Backyards dressed up in comfortable furniture, and adorning planters with aromatic herbs, bright flowers, stylish pergolas and flowing fountains. The deck is a space where you can spend your whole day from your first sip of coffee amongst cheerful birds to your winding down moments of an evening relaxing under the stars.
Your deck has the potential to deliver a magical atmosphere in the evenings where you can spend time with families and friends, sharing grilled dinners and making memories.
Whatever way you are spending quality time on your deck at dusk, it is important to have well-designed outdoor lighting not only for aesthetic purposes but safety too. On that premise, let's take a look at the elements of deck lighting – often so enticing you won't want to leave.
Steps and posts 
As you might expect, there is more to LED deck lighting than steps and posts, but they are typically first in line when it comes to fending off a pitch-black deck. Because decks tend to be above the ground, they often have attached steps. Bondlights' LED deck circle light is perfect for keeping your path clear and illuminated without casting light into your eyes. For wide steps you will probably want to install two lights per step.
As for posts, consider applying accent lighting – lighting that creates extra character to a feature object or area – to the side of a post above the deck. Rather than casting light in your eyes it will cast a soft glow downward towards the ground.
Under bench illumination 
Some decks have built-in benches for seating. Under cap lights are a wise choice in this scenario, and what better a light to use than the LED 35◦ square wall light. A subtle fixture, this light is designed to be hidden and offers safe but subtle illumination.
Moonlighting 
It gets no better than soft moonlight shining down on your deck at night, but what happens when the clouds are thriving, and the moon does not cooperate? This is where the moonlight effect does the job. Place a light fixture high up in a tree near the deck and point it downwards. Just like the moon, light will glimmer down through the branches, producing a stunning but natural effect as the leaves create patterns on your deck.
Decks go hand in hand with moonlighting. Any nearby trees will create intriguing shadows and you can entertain friends and family under a 'moonlit' sky. No trees? Not to worry. You can have lights installed high in your home's eaves to deliver the same effect.
Pergola lighting 
Do you have a pergola over your deck? If so, you have the advantage of stunning LED deck lights. Your pergola is likely to have pillars and cross beams which provide the ideal base for pergola lighting options.
Create a soft wash of light over your table by installing subtle recessed lighting in the beams. You can produce a whole different ambience by attaching uplights to the pergola posts or flooring while highlighting the pergola's architecture. Our Piccolo 20 with hat is perfect for uplighting.
LED strip lighting 
LED strip lighting has huge potential for your deck. Used as downlights attached to the underneath of steps or rails, you can put your deck's architectural features on display while giving the space a crisp, polished vibe. Plus, LED strip lighting is perfect on stairs and the deck's edges.
Pathway lighting 
Keeping your path illuminated and clear is essential for your safety. If your stairs lead to a path, you could have lights from the steps casting downwards. If your path paves the way to a patio, consider having light fixtures installed on both sides of the path. Our LED slim bollard delivers evenly distributed illumination.
Wall lighting 
Add visual intrigue to the deck's façade with wall lighting. With our LED up and down wall cube you can give your deck a cosy atmosphere at the same time as using it to draw attention to charming architectural features.
Do not lose sight of your view 
While we have been focussing on deck lighting design and ideas, there is a whole lot more going on in the landscape. Don't leave your favourite trees and plants out in the dark. Install LED garden spikes to create delicate shadows of your fern's lacy leaves.
Create drama by emphasising the texture of tree trunks. Give your flower beds an ethereal ambience by nestling light fixtures into the soil or mulch. And why would you want your charming fountain to fade away into the night when you could enjoy its beauty from your serene deck perch? Add an LED bollard and watch it come to life.
Keep cool about glare 
On the other hand, there can be too much outdoor lighting. You don't want to ruin a truly relaxing evening on the deck by staring at glaring lights. Our expert lighting technicians select only the best fixtures for your landscape and deliver a garden lighting design that will only leave you breathless.
Call on the experts 
Less light is often more. It is all about where you place the light fixtures, their colour, temperature and angle. Specialists at Bondilights are in the business of providing only high-quality outdoors lighting so call on us for all your outdoors lighting needs.