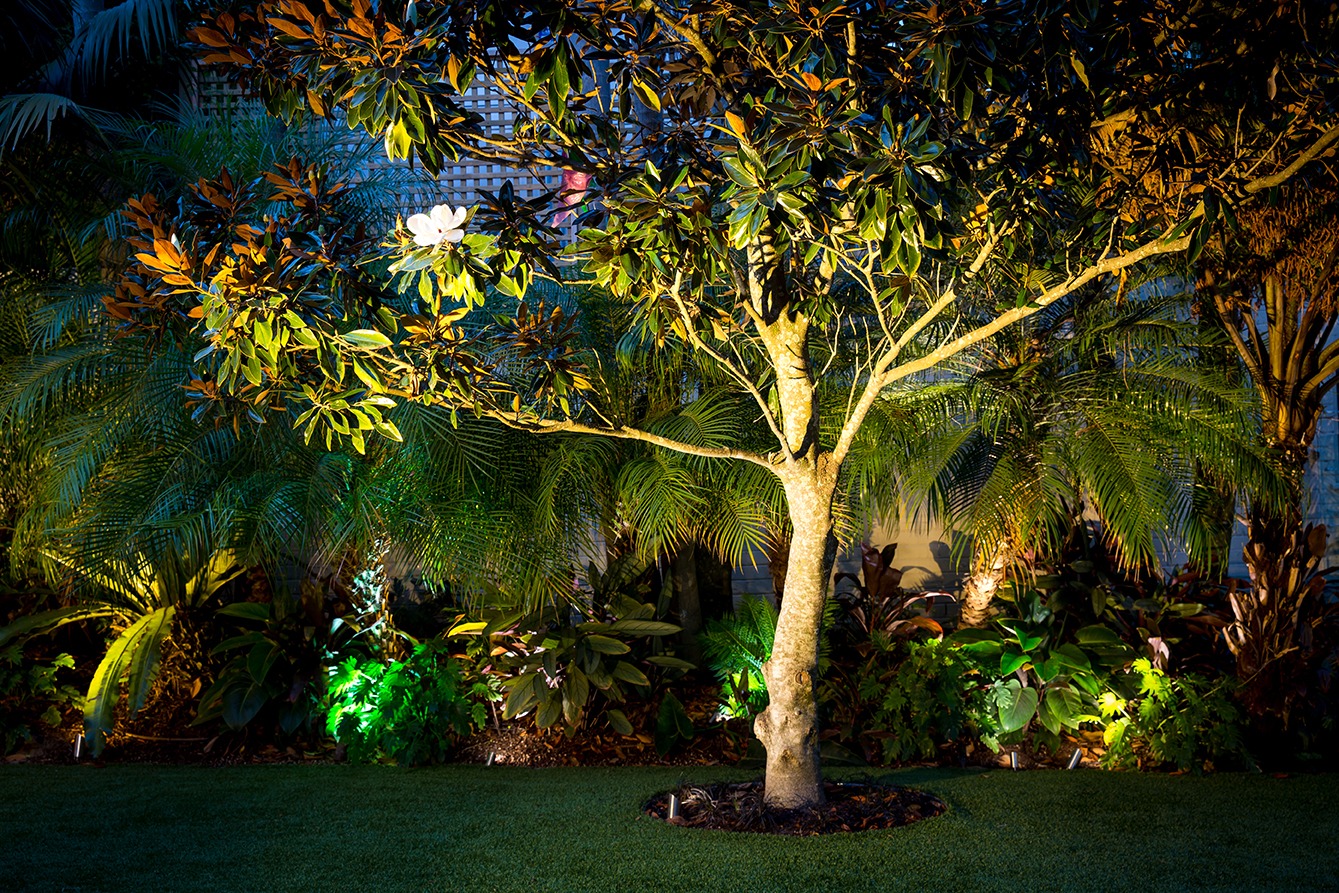 Landscape Lighting – When you are expecting friends or family to show up at your home after dark, you normally flick on the outdoor light switch to invite them in with a helpful glow. Now, take this scenario and intensify it by about 500 lumens. What do you see? A curb appeal landscape lighting exhibit to spark broad smiles and a feeling of instant connection.
Passers-by will take a second glance as they walk or drive by. Plus, you don't want all that hard work you did, trimming the trees and decorating your front step to go to waste once the sunsets. Let your house and garden shine. Keep in mind too – your home's curb appeal is a reflection of how diligent you are updating your interiors.
And did you know that the National Association of Realtors claims that a house with high curb appeal has 7% more real estate value than homes that have unwelcoming exteriors? And there is the added bonus that you will improve the safety of your house by keeping burglars far away if you opt for outdoor lighting.
Before you hire an expert though, consider the areas of your garden that you would like to illuminate. Experts can give you excellent landscape lighting ideas but think about what architectural details you would like to draw attention to. Give thought to your trees, stairway, bodies of water, entrance, walkways and driveways, flower beds and deck.
Let's take a look at the different types of inviting visual appeal you can create to make your home stand out from the street. The key is to choose a style you love and stick with it.
landscape lighting – modern curb appeal 
When you think of modern you think of clean lines, geometric shapes and wide beams. If you opt for modern outdoor landscape  lighting, you don't want to light up an entire segment of your house but rather just part of a wall to flaunt its texture. This is what we call grazing. Bondilight's LED cube up and down light achieves this technique by creating delicate shadows while emphasising the wall's texture.
Of course, the modern look isn't for everyone, but it works well, especially for homes that have a 1960s or 1970s vibe. It is that contrast of old meets new that really sets the scene.
Classic curb appeal 
Irrespective of the style of your house you will not go wrong with classic outdoor lighting. Classic lanterns on exterior walls and upright stick lanterns creating a path to the front porch or door will pass the endurance test for years to come.
Rustic curb appeal 
Homes that have a cabin-like comfy feel would benefit from rustic landscape lighting when you want that overall charming curb appeal. If you are thinking of lights placed on picket fence posts and lantern-style lights on exterior walls you have the right idea.
Landscape lighting – Industrial curb appeal 
The industrial look is on par with modern choices for your outdoor lighting, but with slightly more edge. You might see industrial lights on ultra-modern homes but that's not to say they won't work on any home so long as you keep it consistent throughout your outdoor lighting scheme. Suitable for gardens, our LED deck circle light can be used to illuminate stairs and walkways, which we will discuss later.
So, we have ticked off the types of curb appeal you have at your disposal. Now, let's take a look at the different types of lighting effects that will give you that all important curb appeal.
Related Posts: 
Highlight plants, shrubs and decorative elements 
Does your home feature architectural elements such as a fountain, exquisite statue or old tree? If so, using a directional light such as our LED path light pointed directly at the object to make it stand out at night.
Use a combination of uplighting, moonlighting, shadowing and silhouetting to show off the stunning plants and shrubs in your garden. Experiment with light and shadows using our LED slim bollard and LED pivot light to create drama and intrigue.
Light upstairs and walkways 
Well-lit stairs and pathways not only create an approachable environment but make your home and garden safer, preventing accidental slips and trips in the dark and cautioning potential intruders from entering your property.
Our LED path light and deck lighting will illuminate high traffic areas in your garden. While it is always important to have an appropriate amount of light, take care not to place too many lights close together, or you will end up with a front garden that looks like a runway for aeroplanes rather than a garden you want simply to provide curb appeal.
Create visual interest 
As mentioned earlier, make sure you use any architectural feature such as a fountain or textured wall as a focal point of your landscape lighting. Creating light and shadows increases the visual appeal of your garden and newly planted features. You can generate a moonlight effect and beautiful cascade of light by setting downlights high up in trees.
Cross-lighting using our LED path light delivers a soft and low-shadow effect when positioned correctly.
The aim is to accent, not to overwhelm 
Using too many lights in a specific area can cause glare and underplay the benefits of a well-designed outdoor lighting scheme. Over saturation of lights will not only irritate passers-by but neighbours too and could blind visitors who are entering your property. So, avoid lighting up areas that do not require illumination and consider motion sensor lights that are not overly bright.
Highlight key features 
When people enter your property for the first time at night you want them to think, 'I can't wait to go inside and see what's in store'. That is why you should create anticipation and interest by illuminating pathways, entrances and key features.
If you have a fence, consider making it more friendly with lighting, rather than giving the impression of 'do not enter'. If you have a majestic tree in your garden, why not show it off with our LED bollard to add drama to your home? Or use an uplight such as our LED square deck light to give the tree that extra glow.
Finally, bring attention to your front door with doorstep lighting. Nothing says, 'come in' like our LED circle wall light.
Wrapping up 
The correct use of lighting can highlight your garden, home and architectural features at night, making it a stunning and welcoming sight for visitors and passers-by. It is important that your outdoor lighting is well-designed, and who better to do the job for you than Bondilights. Contact us today and give your home that curb appeal it deserves.