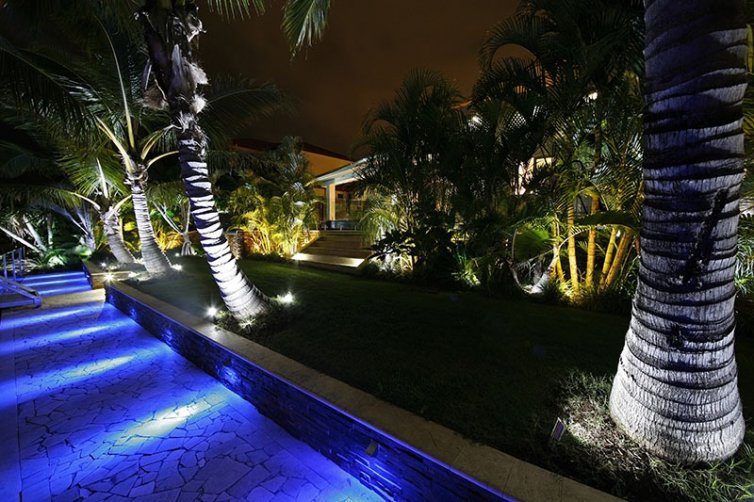 As we head into autumn, there is nothing better than saying goodbye to summer with a barbecue and get-togethers in the backyard. Why not show your home off with landscape lighting for your safety and security too?
There is no denying that professionally designed landscape lighting draws attention to architecture, trees, gardens, paths and pools and provides a stunning and often magical atmosphere. This blog will look at two significant benefits of outdoor lighting – safety and security.
Firstly, let's focus on security and how we can remove the potential for unwanted guests to sneak into your home.
Security – Removing the potential for intruders
Landscape lighting is highly advantageous when it comes to trespassing and staving off intruders. You might think high-voltage floodlights would chase burglars away from the instant you turn them on.
This approach would also be ideal if you plan on turning your landscape into a sports stadium. But a much better technique is to place low levels of lights strategically across your landscape, to establish cohesion and soft transitions of light.
 The latter method is two-fold. Not only does it eliminate those 'black holes' or dark areas where intruders can hide, but this kind of landscape lighting design brings with it beautiful qualities, and it opens up your space so that you can entertain at night or kick a footy around.
There are so many different ways you can design your landscape lighting, but for security, a sure-fire way is to start by lighting up the border of your property to prevent trespassers from taking that first step. Our experts at Bondilights would recommend either uplighting or moonlighting.
You can apply these techniques to your property's border whether it be a fence, trees or hedges. Uplighting involves positioning the lights at ground level and using them to brighten up the border.
Bondilights Landscape Lighting
Bondilights' path lighting bollards would be perfect for the job. Moonlighting is the opposite. Lights are fixed in trees to illuminate not only the tree but your borders too. Just be mindful that the higher you place the lights the wider the light beam spread will be.
If you want your home to be seen, you can create a landscape lighting feature whereby lights placed between windows graze the walls rather than fully illuminating your windows. For a softer effect, try our 35◦ wall lights. 
Just by having a well-lit home and garden you will unnerve unwanted guests and discourage them from walking any further into your garden. Motion-activated spotlights are effective at scaring trespassers. But remember that motion sensors will chase away not only human trespassers but animals prowling your property for food scraps too.
What about when you want to go on holiday but fear you could come back to a burgled property? No need to fret. With efficient garden lighting, you can ensure your home will be safe. Intruders like to lurk behind trees or shrubs, but with adequate lighting, these dark spots will no longer be concealed.
We also recommend that you keep your lighting behaviour the same as when you are at home. Changing up the times on your lighting is a tell-tale sign that you are away and that your home is easy prey for burglars.
Safety: Light the way
 When we think about safety, we are referring to your, your family's and visitors' ability to safely navigate your property without tripping over hidden obstacles. By illuminating paths, entrances, areas where there is a transition in elevation, such as stairs, and moving from a paved driveway to a grass section.
For example, your family and guests will avoid stumbling over otherwise unseen objects. Stairs and changes in texture are particularly dangerous and should always be adequately illuminated. You can accomplish this with spotlights, path lights and bollards. Our LED wall lights are perfect for providing light to steps and transitions in elevation.
Do you have a swimming pool? Without question, pools are areas that must be well lit. Illuminate the pool deck with path lights that deliver adequate lighting to the deck and pool. Our Piccolo 20 with hat is a perfect match for your pool area.
Suitable for decks, walls and stairs, the Piccolo 20 comes with a 'hat' that creates a beautiful halo light effect. And if you are not sure about the guidelines on light safety near the pool, our professional team knows all there is to know about light fixtures and swimming pools.
Pathways are another hazard when darkness creeps in. Darkness can change the atmosphere dramatically. Shadows develop and backgrounds blur into one. A well-lit pathway that extends to an outdoor living area, pool and barbecue, is of paramount importance.
If you are outdoors, enjoying a get together with friends, and a storm hits you need to be able to navigate quickly to shelter. Without lighting you could easily slip or come into contact with a concealed object. The last thing you want is to encounter a slippery path and fall head-first to the ground.
We position light fixtures either from the side or from below the deck to ensure shadows do not cloud your vision. If it is steps you want to throw light on, we like to use niche lights like our LED deck light circle because not only are they visually charming, but they promote safety too. Strategic illumination of dark spots in your garden will help you avoid mishaps and accidents.
Landscape Lighting Designer
As you can see, there is a lot that goes into creating an outdoor lighting system that provides a secure and safe environment. It takes a talented professional with a keen eye for landscape lighting design to create not only a captivating lighting system but one that enhances safety and security.
Landscape lighting design is an art our experts at Bondilights have mastered. Are you looking for safety and security in your garden lighting? If so, contact us today to talk to one of our landscape lighting designers.