An impressive backyard and outdoor entertaining areas are the pride and joy of many Australian homes. Not only does outdoor lighting improve curb appeal but it creates safety features for you, your family and guests. But it also begs the question: where should outdoor lights be placed?
First, think about the spots where outdoor lighting design is absolutely imperative. Identify increased traffic areas and risky spots such as areas where the ground level changes like stairs. These areas take precedence over others for landscape lighting design.
And we all appreciate a well-lit garden whether we are entertaining outdoors on a balmy evening or grappling with the rain while walking up the stairs. There are different outdoor lighting designs and ideas for the different parts of your garden.
Figuring out which light fixtures to choose starts with understanding your options. Bondilights has put a list together of outdoors lighting placement ideas and recommendations.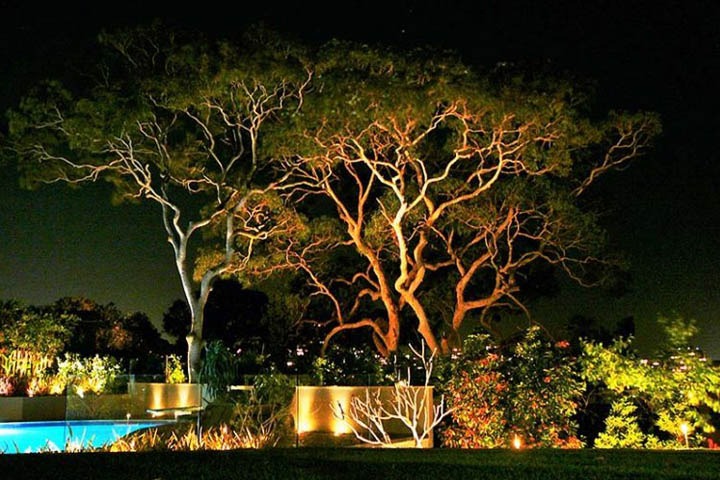 Your front gate 
A well-conceived and stylish lighting scheme does not start at your front door. It starts at your front gate. After all, this is the first thing your guests see when they arrive at your home. You want visitors to arrive at your home and locate your front door safely and without difficulty.
By ensuring your house number is adequately lit with up or downlight lights, such as Bondilights' LED Cube Wall Light Up and Down, visitors will spot your home easily at night-time.
Illuminate your planting and front path 
Light up planting and the path leading to your front door with ambient lights such as our LED Slim Bollard or the Piccolo 40 recessed in garden beds.
Do you have a beautiful ancient tree or statue you would like to draw people's attention to? Consider having accent lighting installed such as the LED garden Spike Light which can be positioned in an upright position at the base of the statue or tree trunk.
With outdoor lighting we suggest using bulbs of 50 volts or less. They deliver a warm glow without causing glare. After all, you don't want to blind your visitors!
Stairways and steps 
Stairways and steps are hazardous areas that can be difficult to navigate without adequate lighting. Adding light to your patio doorstep, balcony stairs or stylishly hardscaped steps to your pool or entertaining area prevents potential injury.
If you are building outdoor stairs, consider adding recessed lights that will not only provide safety for you, your family and guests but will add an element of style. By installing the lights in the riser of the step, you will see that light is thrown down from the centre of the steps toward the sides.
If your stairs are open, try installing lights to the supports beneath the steps. The lights will create a warm glow that emanates between the steps. Bondilights' outdoor lights are wet-rated to ensure they will not be damaged by precipitation.
Another bright idea is attaching lights to either side of the steps. The Piccolo 20 with hat is perfect for this application and comes in a variety of colours to match your garden design.
Related Posts:
Feature lighting 
Expanding on our earlier narrative about illuminating key elements in your garden, feature lighting focuses on the contrast between light and shadows to create a stunning atmosphere. Key elements could be specimen trees, water features, statues and textured surfaces.
Lighting is normally placed in-ground. However, you can also add downlighting to canopy trees to emulate the silvery glow of moonlight. Although this technique requires effort and skill, it is worth it. Simply have soft lights placed high in trees and fall in love with the results.
Perhaps you want to highlight your large wall. Not only is a large wall a great blank canvas for using lighting, but you can have fun with it by adding another dimension to the space with artwork or low plants.
Consider also lighting up your front door to add not only safe for you and your guests but to create an ambience too. Front door lights deliver a layer of elegance and style to your front porch and walkway.  The LED 35◦ Circle Wall Light is recessed and the perfect companion for your front door setting.
Entertaining areas 
Who doesn't get a thrill out of entertaining and having friends and family over for a little backyard shindig? Establishing the perfect lighting scheme for your entertaining zone is tricky but exciting business. You need just enough glow to see what's going on around you, but you also want enough ambience to not feel like you are being floodlit!
For a start you will want full visibility over the barbecue. Our LED Pivot Light and LED Pole Light are excellent options. And something else that works well in an outdoor setting is washing light up or down the wall. The LED Wedge Wall Light Up and Down is perfect for this. Instead of shining light outwards it creates a classy effect and shows off the wall too.
There is also the option of low-level lighting beneath floating bench seating with deck lights such as the LED Deck Light Circle.
Create an atmosphere 
While it is important that your outdoor lighting provides you with safety and security it should also create an atmosphere that reflects your garden's general style.
For example, formal gardens might lend themselves to deck lights and wall lights, while natural gardens would look perfect with washes of light against walls or across brushes of plants.
The thing to remember is not to light up the entire garden. Space lights apart to give you mysterious pools of darkness, rewarding you with a more natural feel.
Final words 
From safety to the creation of atmosphere, outdoor lighting serves a number of different purposes. Contact Bondilights, leading landscape lighting designer in Sydney, today and put some of these tips and ideas to good use in your outdoor spaces.