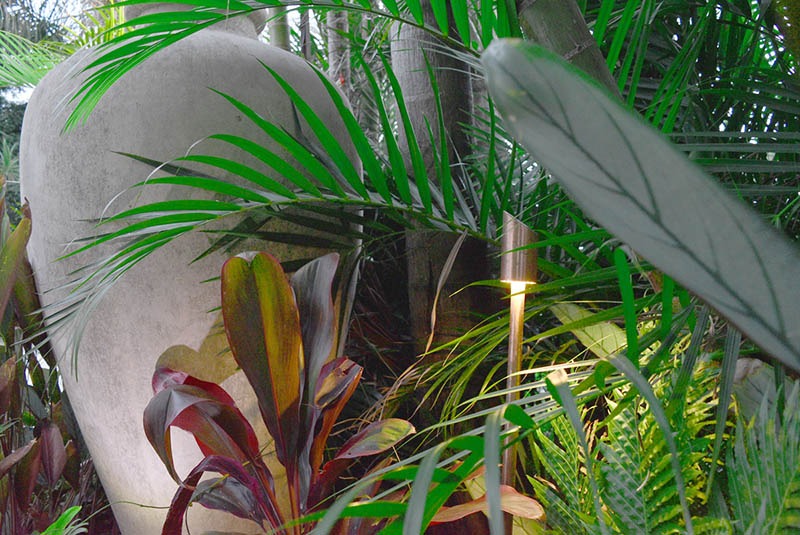 Bondilights is an outdoor lighting manufacturer and supplier, garden lighting designer and installer
Wanting to enhance the atmosphere of your garden at night? Landscape garden lighting is the answer. Nothing compares to lighting up your garden as garden lights can. Whether you want to illuminate pathways in the front garden or host a garden party in the backyard, you cannot go wrong with landscape garden lighting specialist.
Layer light your garden with wall lights, bollards and up and downlights to add visual appeal and protect the safety of family and guests. If you are a fan of trendy lighting designs read on for some inspiration on modern garden lighting ideas.
Garden Lighting: Lights up and down
If there is one thing at Bondilights that we have not neglected in our store is modern exterior up and downlights. From LED cube to ellipse wall lights, we have a range of models, all sleek in geometric designs. Today, we have selected the LED wedge wall light up and down that features in copper and stainless steel.
With two light colour options available – warm white and cool white – this light has simple lines and as the name suggests, casts a beam of light both up and down walls for maximum effect. And while the LED wall light looks the part on the wall, it also looks good on posts and stairs.
Architectural trickery in Garden Lighting 
Trendy exterior garden lighting can also be virtually invisible. Bondilights' LED 35◦ square wall light goes back to basics with its simple square recessed fixture and light faced at 35 degrees. This basic yet sleek design is perfect for illuminating the walls along driveways and garden paths. Available in stainless steel and solid copper, the LED square light can be installed on posts too.
From the future of Garden Lighting
Looking for a cutting-edge design? With its geometric surfaces, the LED elipse wall light up and down will meet your requirements. If you have a modern garden the LED ellipse will rise to the challenge by illuminating your façade or driveway beautifully. Casting a beam of light up and down the wall, this model never throws out so much light that it blinds onlookers. Plus, it is perfect for any architectural or ornamental feature you wish to show off.
Posts for flexibility in Garden Lighting
Bondilights' LED slim bollard is a garden post that shines its light just where you would like it, either towards that ancient tree you have wanted to flaunt or the steps leading up to your front door. Variation is the trump card of this model. Not only is it suitable for paths, driveways, lawns and landscape but its height can be altered to suit your needs too. The LED slim bollard is perfect for every garden.
In the spotlight of Garden Lighting
This time we have the Piccolo 20 in the spotlight. Available in stainless steel or copper, the Piccolo 20 is the ideal candidate for accentuating specific features in your gardens, such as that ancient tree or sculpture. Plus, it is suitable for decks, walls and stairs as well as your landscape lighting.
Lighten up the staircase
LED strip lighting is the effortless answer to illuminating your staircases. Add that to a balance in landscape lighting and you have architectural wonder. The versatility of our LED strip lights plays hero to your steps in both the front garden and backyard by creating a sense of floating while also providing safety for you and your guests.
The path forward
Path lights are great for illuminating stone and garden walkways. Not only are our LED path lights energy-efficient and long-lasting but being wet rated they can withstand weather conditions all year round. And their height and bend can be adjusted to suit your needs.
Go square
Never forget the importance of wall lights to layer light throughout your modern exterior space. Our LED 35◦ square light positioned along a wall or on posts is a simple way to integrate visual symmetry into your garden. Go one step further and throw in a few candles if you want to create an intimate setting. 
The right balance
You want to ensure that your garden lighting complements your landscaping. If you have stone walls and walkways, opt for path or bollard lights that will blend in. Neutral and grey tones work well with stone features and contrast beautifully against green shrubbery and colourful flowers. With adjustable height, the LED bollard is perfect for the job.
Minimalism brought to light 
The classic bollard light is one of the most versatile models to light up gardens and pathways. Choose the LED slim bollard if you want to call attention to your flowers, plants or rocks. Sleek and tasteful in design it will not distract from the natural features of your garden.
Unite the old with the new
Your interior is not the only place to blend the old with the new. You can do this with your garden too. Add a contemporary feel to your backyard by installing our LED path lights with a sleek minimalist design. Their futuristic style adds a nice contrast against the greenery of your hedges and bushes.
Clean and simple Garden Lighting
Give your garden walkways a clean and tidy look by opting for Bondilights' LED pivot light. It delivers eloquent light without cluttering the space. While adding a subtle elegance to the scene, the LED pivot light can concentrate light downwards using its swivel arm to illuminate important areas.  
Garden Lighting Takeaways
As more and more garden enthusiasts lean towards trendy designs, the experts at Bondilights are always keen to dress up your gardens and backyards with our top-quality lights. We hope these examples of modern outdoor lighting have given you a strong dose of inspiration. In the meantime, hurry over to our website to discover our large assortment of outdoor lights. 
 Related Posts: