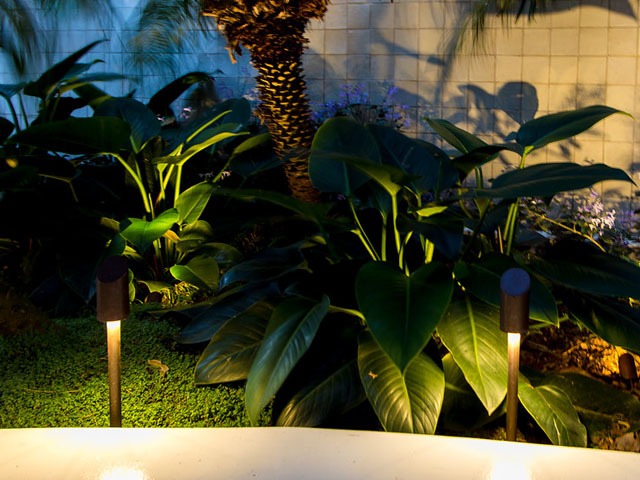 Bondilights is an outdoor lighting manufacturer, garden lighting supplier, landscape lighting designer and garden lighting installer
With spring not too far away and nature waking up, it is time to start thinking about your garden and joining the world outside. What do you see when you look out at your garden at night? If it is pitch black, imagine the beauty and magic you could create with some outdoor lighting.
The garden at night is a place of mystery and excitement, at least if it is done well. Outdoor lighting should captivate rather than daze. Too much light and your surroundings are lost. Too little and everything just disappears.
To create the perfect look, you need to plan well. This is where lighting designers, garden lighting specialist and architects come in. They play with elements of light to capture our imaginations and open us up to a world of possibilities.
Check out these great ways of using light to draw attention to your garden.
1. Path Lighting
Path lighting creates not only a charming setting through your garden, but it provides ease and safety for foot traffic. Keep in mind that you must place the appropriate LED path lights in the right positions to deliver the best impact for your overall design.
Outdoor Lighting to use:
With the Australian made LED bollards from outdoor lighting manufacturers, Bondilights,you will be able to move through your garden safely at night. Manufactured in three different sizes, our LED bollard lights are best placed next to pathways or in the garden beds on either side. They will also accentuate plants and features while delivering a nice wash across the ground to illuminate your path.
2. Uplights for Trees
Emphasise your trees and define the shape of your garden by positioning uplights at the base of the trunks. It works in most gardens but if you have a large mature tree in a dark sprawling space, why not emphasise it with a spotlight? Or if you have a more orderly modern courtyard consider a spotlight row to flaunt the space's geometry.
Outdoor Lighting to use:
Available in marine grade stainless steel or solid copper, Bondlilights' LED garden spike light comes in either a warm white or cool white. The spike can be bent to provide the best angle of light, so it is suitable for trees of any height.
The Piccolo 40 would work wonders as a spotlight row in a smaller garden or courtyard.
3. Cluster Lights
Instead of throwing light on your winning tree, think about lighting up a whole cluster of trees. This can deliver soft light to a nearby sitting area. If you want to cast a soft light on your deck or poolside eating areas, cluster lighting will add shape and depth to these areas, especially in a large garden.
Cluster lighting also works well with cluster planting. You can create an almost sculpture by lighting up architectural plants such as palms or large ferns. Add depth to the scene by lighting up each plant from different angles.
Outdoor Lighting to use:
Spike lights, like Bondilights' LED garden spike light, works well for cluster lighting. Consider having several light switch options so that you are not limited to all or nothing.
4. Strip Lighting
Define the shape of your garden and outline the edges with strip lighting. Strip lighting works best in gardens where the focus is on architecture. Paths, decks, raised garden beds and steps are more striking with strip lighting. The more modern landscapes and courtyards flaunt this look better than the more natural, wide-edged gardens.
Bondilights' does a range of strip lights from low to ultra-high power and in different colours too.
5. Stair Lights
Make sure you are not stumbling down or even up the stairs and install stair lights. While stair lights are imperative from a safety perspective, it is when they lead you to the front entrance that they really play their part. As well as focussing attention on your front door they can be used to enhance surrounding plants and other features.
Outdoor Lights to use
The main consideration for stair lights is choosing the right product for your overall scheme. For an angular, brushed steel aesthetic you might use the LED square/circle recessed wall light but if your style is more traditional, opt for the LED deck light circle.
6. Spotlights
Spotlights are top of the line when it comes to highlighting architectural features and landscaping, as well as potential danger areas such as the poolside. Just be warned though that when you throw a lot of light at the one spot, the areas surrounding it can seem darker. One way to overcome this is to install Piccolo downlights in the corners of those spaces.
Outdoor Lights to use
The high powered LED garden spike light is the best for showcasing your favourite mature tree or big architectural feature especially as it bends to give you the best angle of light.
7. Pool Lighting
Achieve the pool party atmosphere with sharp colours, bright lights and deep shadows. And while lighting delivers a mystical vibe to your pool area, more importantly, it provides safe use. Emphasise your lit pool by installing lights on the non-pool side area. You want your pool to be a dramatic night-time feature rather than a dangerous black hole.
Outdoor Lights to use
The LED cube wall light up and down is an excellent choice if you have walls near the pool-side. In warm or cool white light, these LED cubes cast beams of light both up and down a wall.
8. Backlighting
Ask any lighting architect and they will tell you that light is just as much about shade and shadow as it is about illumination. Backlighting creates a powerful visual image in a garden or courtyard when sculptural shapes and architectural lines are the subjects. It works most effectively in a contemporary style garden.
Outdoor Lights to use
The LED elipse wall light up and down is perfect for walls, posts and stairs if you want to showcase that large Buddha sculpture or reclaimed brick wall. Not only will it bring out the pattern and colour but texture too.
9. Feature Lights
It's not always about the landscape, sculpture or tree. A well-chosen light can be a feature all on its own. Perhaps you want to break up a long wall or you are waiting for your garden to mature. Installing a feature light can be your backyard's redeeming quality.
Outdoor Lights to use
You want to make a big impact so think big when choosing a feature light for your contemporary garden. Bondilights' LED bollard lights are a great choice if you need to bring light to a large or long space, and they also act as an appealing feature.
10. Water Feature Lights
Finally, external lighting that illuminates the structure of your water feature, such as a fountain, provides great drama between light and shadow and creates visual intrigue. Highlighting your water feature will allow for more dimension at night. A lighting designer will know how and where to place the lights for the best angle of illuminating your object.
Outdoor Lights to use
If you have a wall near your water feature, the LED pivot light is the way to go. As its name suggests, the LED pivot light is mounted on a swivel arm and round fixing plate, perfect for aiming light at your feature.
About Bondilights
Australian owned and manufactured, Bondilights' LED lights are 80% more cost-effective than your traditional lights and have over 30 years of use. Cool to the touch, our lights are not only elegant but also robust and reliable. We use only the highest quality Australian materials and finishes to withstand the Australian climate.
Now that spring is not too far away, light up your outdoor life and contact one of our outdoor lighting specialists today to talk about how we can transform your garden into something magical.
Related Post: