Whether you fancy al-fresco dining with friends and family, basking in the sun or playing outdoors with the kids, your backyard will be a big part of your life in the upcoming summer months. And while this does not pose a problem during daylight, what about at night when it is still warm outside, and you crave a different kind of ambience?
Without adequate lighting, you might find yourself spilling drinks and tripping over unseen objects. That's where outdoor lighting comes in – to create not only a sense of security but one of tranquillity too.
But remember that by adding exterior lighting to your backyard at night you do not want to focus on the beauty of your landscape as it appears during the day. Instead, focus on something different – contrasts, shadowed silhouettes and highlighted features. Turn your night garden into one of mystery and intrigue.
You do not want to coat your entire garden and patio in big bright lights. After all, your backyard is not a sports stadium. With some creative thinking and advice from a lighting specialist there are numerous ways you can bring magic to your night-time garden.
But first, have a read of the lighting ideas we have come up with to make sure your patio shines during summer BBQ parties, game nights and everything in between.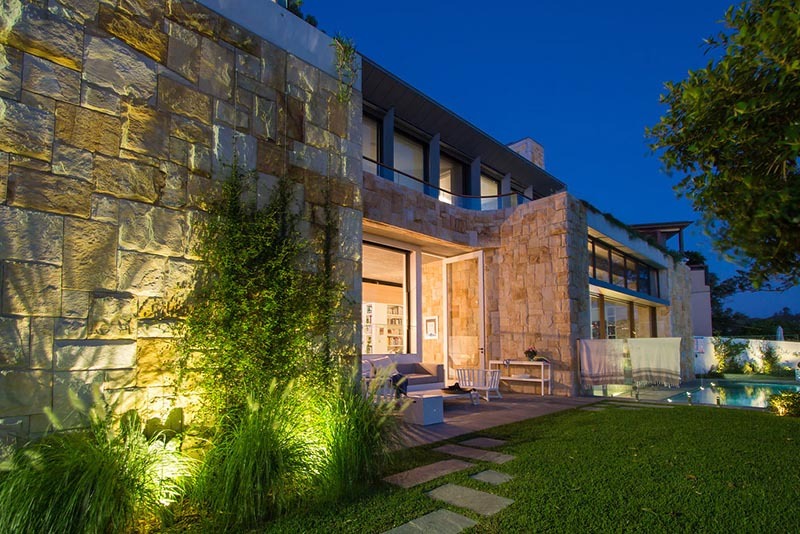 Downlights 
Highlight your outdoor dining table or seating with downlights while you relax with a drink at the end of a long day. Achieve this with a Bondilights' LED Wedge Wall light which will shine light downwards to create a cosy and intimate atmosphere while avoiding that annoying glare.
If you have a tree near your patio, consider what we like to call the 'moonlighting' effect. Hang the light just above the lower branches of the tree and light will filter through the leaves to create a stunning pattern of light and shadows.
Floor lights 
At the other end of the spectrum, try using floor lighting. Our LED deck light circle is perfect for this look. That way you won't get any glare and it is much more subtle than other forms of lighting.
There is also the option of LED strip lighting to not only create intrigue but to separate your seated patio area from the rest of the landscape.
Lights around the fire pit 
Do you have a fire pit for those cooler nights? Not only are they a cosy patio feature, but they deliver the perfect gathering area for late-night entertaining. Many fire pits today are designed to incorporate seat walls to add definition to the space.
By installing seat wall lighting around your fire pit, you will add a dimension of illumination and increase your time outside once the sun has set. Our LED square and circle recessed lights might be small fixtures, but they create a significant amount of light to the area and not only define the patio space but also add depth to the stone wall.
And yes, you might be thinking that the fire itself creates a decent amount of light, but wall lights add another layer providing ambience and are especially beneficial when the flames start to subside. You will be amazed by the unique atmosphere of wall lights hitting the stone and are sure to want to spend more time with friends surrounding the fire pit.
Besides the beauty and enjoyment of lights around the fire pit, wall lights will improve visibility and prevent common tripping hazards.
Related Post:
Overhead string lights 
String lights are one of the most tried and tested options for outdoor lighting for patios. When hung over an outdoor room or dining area, they provide a warm and inviting atmosphere perfect for late-night get-togethers and intimate dinners.
There are many creative ways to install string lights, but the most popular method is by hanging them between two structures such as the eaves of your house or trees. For covered patios simply attach the lights to the corners of the roof. This will give your patio a uniform look. You have no structures to hang the lights to? Consider freestanding string lights.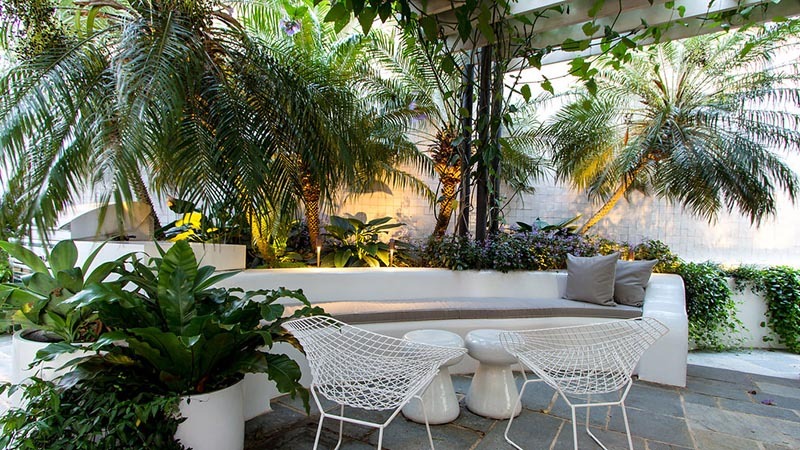 Freestanding string lights 
If you have no structures to fix the string lights to or cannot be bothered going through the process of securing them to a tree or your house, you can have the lights freestanding. There are plenty of options for doing this. Plus, you can change the look of your patio by easily taking the string lights down and fixing them somewhere else.
Rope lights 
Just like string lights, you can use rope lights in much the same way to brighten your patio and outdoor landscape. Do you have a railing around your patio? There is nothing like adding rope lighting underneath the handrails to cast a subtle, discreet glow. And if you have a bar in your outdoor area, why not do the same underneath the counter for extra charm?
Outside Chandeliers and pendants 
Sometimes you want your patio lighting to be the centre of attention, so why not up the ante with an outdoor chandelier? Whether it is above your dining table or in a covered patio, a chandelier is guaranteed to deliver an air of glamour. Just ensure the fixture is damp or wet-rated.
And if you don't have a chandelier, outdoor pendants are a great alternative. Consider pendants that complement your surroundings.
Recessed lighting 
If you are going for the minimalist look but want plenty of illumination, recessed lights like our LED circle and square recessed lights are the perfect options for your patio. With a sleek and inconspicuous look, they work well with modern or minimalist outdoor designs.
Outdoor ceiling fan with light 
The perfect combination of style and function, outdoor ceiling fans with lights can be a great feature for any patio. Install the fan above your dining table and you can use the space all year round. It will cool you and your guests on very warm nights while brightening up your patio.
From rustic wood to sleek industrial metal, outdoor ceiling fans come in a range of styles. So, consider your outdoor design and choose a style that best suits your patio.
Wrap up 
These outdoor lighting ideas should stand you in good stead for transforming your patio. So, the next thing to do is call on the outdoor lighting professionals. Contact the experts at Bondilights and start planning your outdoor lighting today!