On your evening leisurely strolls, you like to take in the mystical illumination coming from different homes. Let's face it, we all do it when we go for a walk. But do you also long for your garden to grow in the same way? Here are garden lighting techniques you can apply.
Think about it: a beautifully lit garden landscape creating a stunning welcome for not only you and your family but your guests too. Bear in mind though, there is an art to landscape lighting design. Just picture the shadows you could create and those intriguing architectural elements you can highlight.
And the good thing is, whatever the size of your backyard and garden there is a variety of ways you can enrich your outdoor space. And we have come up with all you need to know about the garden lighting technique applied to illuminating gardens at night.
So, take a read and wow your friends, neighbours and those people on leisurely strolls with your striking garden lighting techniques.
Up-lighting Garden Lighting
One of the most popular garden lighting techniques, uplighting involves illuminating an object such as a long-standing tree, area or surface from below.
Aiming a spotlight, such as Bondilights' LED garden spike light, at a tree in the foreground while having the front of your home quite dark, delivers a magical focal point. You can even install a light in the ground, like the Piccolo 40 for a tidier appearance.
Downlighting Garden Lights
At the other end of the spectrum, we have garden downlighting. This approach creates a soft, subtle glow and is usually achieved by mounting a flood or spotlight, such as the Piccolo 40, above the landscape rather than below.
Used to highlight specific areas of your backyard, you can create some stunning patterns on the ground from the below tree branches, delivering the effect of moonlight shining through the trees. And if you want to illuminate a large portion of the yard, place the light higher.
Graze Garden lighting
Do you have a tree trunk, stone wall or climbing ivy you would like to highlight? If so, place a light source, such as a spotlight, within about 30 centimetres of the surface and aim the light beam parallel to it.
This is grazing. It does a wonderful job of adding depth and dimension to brick, stonework and architectural features.
Accent Garden lighting
As its other name, spotlighting, suggests accent lighting uses cross lighting, which we will touch on later, to showcase a particular feature in your garden with beaming light in an otherwise dark space.
Showcase anything from a garden sculpture to signage. You can even angle your uplight or downlight to give a feature special attention. A narrow beam spotlight will add a dash of mystery to your accent lighting.
Silhouette lighting
Also known as backlighting, silhouette lighting is applied when you want to dramatize a unique object. The best way to draw attention to a shape is by illuminating a vertical surface behind the object to accentuate its unique shape.
You can also mount lights at the bottom of a tree, shrub or dense feature to cast the plant's shadow toward the sky for a stunning twilight display.
Related Post:
Path lighting
Illuminate your path while emphasising garden landscaping such as shrubbery, flowers and borders. Stagger path lights, such as the LED Path Light, around the walkway to generate pools of light and brighten a safe passageway towards your front door.
For extra safety and to enhance your overall theme, spread lights along the sides of your driveway. Just ensure that you don't position the lights where they can be kicked or get in the way of the lawnmower.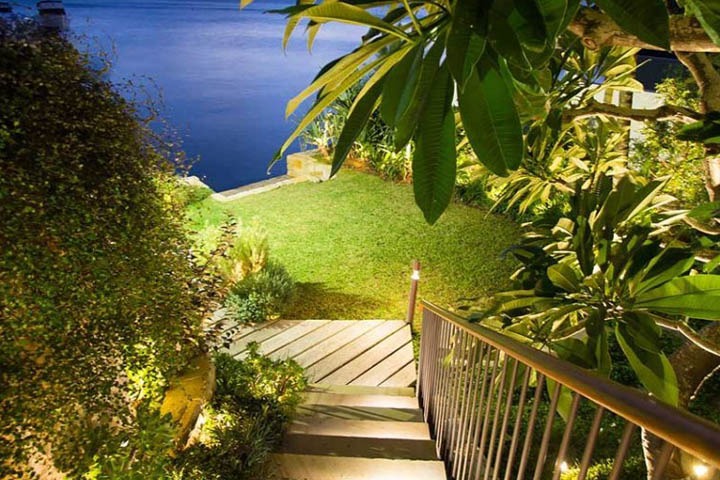 Step lighting
Step and brick lights work well in masonry and wood constructions. Important for safety in your backyard, step lighting, such as the LED 35 degrees circle wall light, casts a soft but bright, glare-free light over the steps and deck. Similar to path lighting, it allows you and your visitors to see any obstacles in the way.
Wall wash lighting
Do you want to give your wall a soothing but even glow? If so, go for the wall-washing landscape lighting technique. For best results, place your light about 60 centimetres away from the feature or wall and aim it at a sideways angle.
This will maintain an even and somewhat subtle atmospheric lighting to the area. A wide-angle light with low wattage is recommended, instead of a spotlight.
Shadow lighting
Shadowing directs your eye to the textures, the looks of your home will be completely transformed and height variations of objects in plant beds, emphasising depth and ambience.
Shadow lighting is normally achieved with uplighting to generate silhouette outlines of trees, plants and objects within the landscape construct. Often used to create images on dark garden walls, it delivers an elegant and mysterious touch to your backyard design.
Hardscape lighting
This involves highlighting stone features, outdoor patio kitchens, retaining walls, benches, steps, handrails and more.
Xeriscape lighting
Not sure how to light up your cacti, grasses and stone used in xeriscape designs? Xeriscape lighting with lower lumen illumination will benefit your design more than traditional landscape lighting can.
Water lighting
Strategically place lights in the background areas around bodies of water and create breathtaking water scenes that reflect the landscape off the water.
To enhance water features, illuminate flowing water in waterfalls and fountains to generate that magical mirroring effect on standing water.
Cross lighting
Position downlights horizontally to create a soft, shadowy lighting effect known as cross lighting. It creates a stunning display of precisely placed beams of light fused with evening shadows for a vision of depth and texture.
Not only can you create a dramatic effect with the right garden and landscape lighting techniques, but you also enhance safety at night.
Highlighting
A common but useful technique in lighting design, highlighting is generated by placing a spotlight, like the LED slim bollard, at the base of an outdoor feature like an ancient tree. By changing the angle and distance of the light fixture you can play around with different lighting designs for intriguing landscape architecture goals.
Final thoughts
As you can see, there are so many techniques for landscape lighting, knowing what lights go where. Some of the effects that you can create with well-positioned landscape lighting are remarkable. Bondilights will ensure that your lighting masterpiece not only provides security for you and your home but that the look of your home will be completely transformed during the night.
Related Posts: