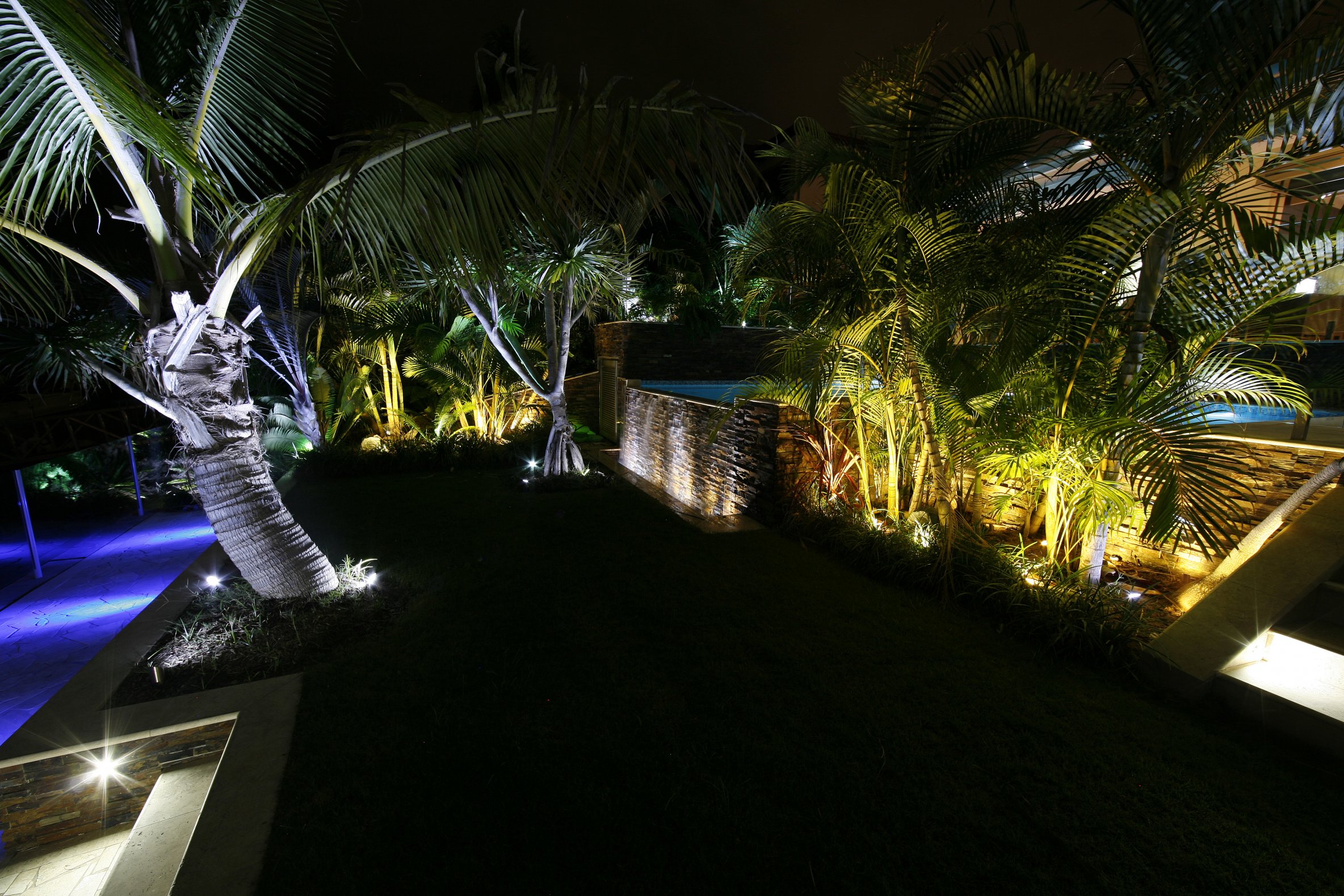 The creation of an outdoor room in a backyard is one of the biggest trends of home ownership today. No longer is it in fashion to have a picnic table and small grill in your back garden. Outdoor rooms with multifunctional space that can accommodate food prep and cooking, lounging, dining and heaters for cold seasons, are now all the rage.
Then you have the bonus of an enhanced lighting scheme to give you and your family and friends pleasure not only during the day but at night too. Plus, if you have spent a lot of time making your gardens and home exterior look great, why hide them at night? Invest in outdoor lighting and magnify your gardens' beauty to give your home the sought-after curb appeal.
Aesthetic appeal is just one of the benefits of outdoor lighting.
The benefits of outdoor lighting.
Aesthetic appeal
Your property might look stunning during the day so why stop enjoying it when night steps in? With outdoor lighting, you can enjoy the view from your back windows and porch all night long, especially when you accentuate the most important features of your garden. Think of the countless different ways you can enjoy the benefits of  outdoor lighting.
As well as illuminating the focal points of your home's exterior you can direct attention to the front of your house with outdoor lighting. Showcase those interesting and compelling architectural features throughout the night. Your neighbours and passers-by won't be able to walk past without stopping to soak up the view.
If you have recently installed a new door, emphasise its sharp corners and intricate details with a wash light such as Bondlights' up and down wall light. Perhaps light up the branches and shape of your favourite tree with a LED slim bollard. And bring your walls to life at night with a LED wall up and downlight and focus on their colour and texture.
Your home will be more inviting not only to you but to your guests too. A well-thought-out lighting scheme can transform your home from one of darkness to a bold, illuminated masterpiece.
Related Posts: 
Practicality
There is nothing like a backyard game of cricket or soccer on a warm day. But without sufficient outdoor lighting, you will have to stop once the sun goes down. However, if you have adequate outdoor garden lighting, you can continue playing into the night until you are too worn out to play anymore.
If you have a swimming pool, think about those night-time dips. You can only do these with outdoor lighting. Not only would outdoor lighting give the pool a compelling appearance, but it would keep you safe too.
Safety
Landscape lighting will give you clearer visibility and prevent the chances of you, your family or friends tripping or falling. If you have uneven paths and cracked walkways, without exterior lighting, entertaining friends and family is an accident waiting to happen.
And in case you are not in the loop, homeowners are liable for accidents that occur on their properties. Therefore, it is important that you install strategic illumination at least in your gardens' problem areas, to help avoid unlucky accidents.
Security
If your home is dark, it is an attractive focus for burglars. Outdoor lighting is a great drawback for thieves. Exterior lighting draws attention to your home and therefore increases the likelihood of neighbours or passers-by catching a potential thief at work.
Lighting also delivers a better view of your house, garden and surroundings when visitors arrive at night. By illuminating the view around the perimeter of your home you will shine light on anyone lurking around at night.
Value
Irrespective of the design or size of your home, outdoor lighting can enhance its style and dimension. With a well-designed lighting scheme, you can emphasise your home's best features.
Light will add space and dynamic form to any dull exterior. It increases the value of any home and is a huge benefit when you want to sell your property. Potential buyers will always be attracted to a well-lit home.
So, from improving curb appeal to creating a safe and warm place for entertaining, we have seen that outdoor lighting has so many different benefits and highlights the fact that exterior illumination is necessary. What are the best lights, you ask?
Bondilights has the best lights in the business. Let's see why.
Australian made lighting
All Bondilights' lights are proudly Australian designed and manufactured and have been for over 15 years. Our lights are engineered to stand up to the Australian environment without compromising on style.
Dedication to customer service
The team at Bondilights will assist with fitting a lighting scheme customised to your requirements. If you have a blank canvas and are undecided on how you can make your night landscape work, we will happily provide an overnight demonstration at your property, bringing your night gardens to life.
Plug and play
Bondilights provides an exterior lighting installation service. Our unique Plug and Play wiring system drives our LED lights and is so simple to construct. With easy installation and the capacity to create and change your desired effects, our Plug and Play system includes on-site consultation as well as an overnight demonstration at your home.
This allows us to ensure all light fittings work in unison to create the desired effect. Easy installation includes timer sensors, remotes and light fittings. It is these exceptional features that make Bondilights stand apart from the rest.
Thanks to our easy system and light fittings quality, our clients have become excellent light effect specialists.
Other benefits
Our LED lights have a large number of benefits as you can see below.
Australian owned and made
Up to 80% more cost effective than traditionally run lighting
Large range of sizes and styles
IP68 waterproof rating – our lights can be installed in water features and ponds
Cool to the touch
80,000+ hours life or 6 hours per night, 7 days per week for approximately 30 or more years
Non-corrosive body and ideal for coastal environments
No bulbs to change
No infra-red or UV lights – they don't attract insects
Reliable, robust and trendy
No light pollution
No hazardous materials such as lead or mercury.
Final thoughts
Now that you are convinced you should invest in outdoor lighting, let Bondilights help you with everything. Our lighting specialists can discuss your best solutions, landscape and budget with you. We ensure you receive all the above benefits and that your home will be the highlight of your street.