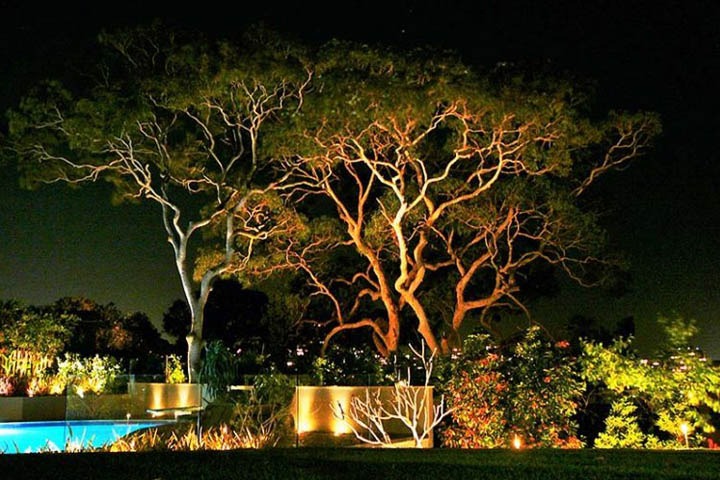 Garden lighting – Summer may well and truly have deserted us, but that does not mean you have to desert your garden. Whether it is for a spot of al-fresco dining under heaters or playing games with the kids, your garden will still be a casual feature in your life over the coming months. While your backyard won't pose any problems during daylight hours, you probably seek a different type of ambience at night.
Evenings are about entertaining and relaxing after a long day. If you choose to gather around a firepit or heater, you want your garden to provide you with a sense of not only safety and security but tranquillity too. And there are so many ways you can turn your backyard into a warm and inviting space with garden lighting design.
From in-ground and wall lights to bollards and poles, the experts at Bondilights can point you in the right direction to ensure you achieve exactly what you are looking for. But be warned – by reading this you will probably come away with too many outdoor lighting ideas to choose from.
Without further ado, let's explore some stunning garden lighting designs and ideas that you will just be buzzing to try out after.
Related Post: 
garden lighting designs and ideas
Frame your entry
Nothing says 'welcome home' quite like warm lighting. Your front entrance will appeal to visitors and passers-by at night if you light it up. Many different types of lights are fitted for this purpose, but Bondilights leans towards the LED cube wall light which emanates a warm white or cool white glow to create a soft subtle effect.
Cast light on your features
A spike light like our garden spike light works well when you want to illuminate trees or that special feature. Angle the light so it reflects off the tree trunk and into your plantings and foliage.
Ambience lights alfresco style
With so many options available for alfresco dining, we recommend wall lights, such as the LED Wedge Wall Light. Overhead lighting above a dining table is often too bright. A carefully illuminated outdoor entertaining area will provide enough lighting for dining. And if your pergola or deck is lucky enough to be close to a large tree, consider tree-mounted fixtures to create pools of light that deliver a casual yet stunning look.
Take it a step further and decorate your entertaining area with faux foliage for instant greenery.
Bring out the path lights
Do you have a pathway? If so, there are quite a few different garden lighting designs that will do the trick. For a start, there are spike lights. If your path is long or wide the LED Garden Spike Light will not only add a statement, but they are practical and super stylish. They emit a great effect between plantings to emphasise your favourite flowers.
Not keen on posts or spike lights? Consider using fixtures that sit flush to the floor. The Piccolo 20 is a more subtle option and will highlight plants along your border, enhancing the architectural elements of your space.
Strip garden lighting
LED strip lighting is unique in the way that it can be cut and tailored to fit almost anywhere in your garden. The strips can be stuck onto decking edges or step treads to create a linear illuminated border or walkway.
Light up the fireplace
The right fireplace or fire pit can be a stunning feature, especially when placed at the heart of your garden. Adorn it with staggered and recessed light fixtures, such as LED Deck Circle Lights, and watch your fireplace go from feature attraction to star attraction. These lights will draw attention to nearby foliage and branches of small trees while enhancing subtly textured materials.
Brighten the walls
Your walls should not be overlooked. Throw a soft wash of light on them with our LED Wedge Wall Light and draw attention to their brick detailing and texture. Wall lights not only add a finishing touch to the outside of your home, but they increase the level of security.
Flaunt your features
Outdoor lighting can double up as stunning works of art. Showcase your water fountain or Buddha sculpture with an ambient glow using our LED Path Light. Water features alone deliver so much tranquillity to outdoor spaces and are extra special when lit up.
Perhaps you would like to mix your theme up a bit. Say you have a lot of traditional, antique or cottage garden fixtures on your plot. Combine these with modern garden lighting designs and you have yourself a stylish contrast of past and present.
Quiet shine with uplights
Not a fan of putting your garden in the limelight? Not a problem. With subtle uplights, you can take the more understated approach. The Piccolo 20 with Hat built into your flooring will give your patio, deck or stairs a warm, cosy glow. Place them in your flower beds or beneath potted trees and delight in the organic shapes and colours when night falls.
Up the wow factor with reflections
Be creative and give your garden that wow factor with an entirely different look at night. All you need to do is throw a string of LED lights over the pergola or hedge to set up a magical look for gatherings and dinners. Taking just a few minutes of your time, it is so easy to do.
Add to the magic by using reflections to produce a shimmer effect. All that is required is polished tiles or a decorative metal screen to capture those reflections. You can deliver the same look with garden mirrors or water features.
Now that we have given you some thought-provoking ideas to reflect on, have a think about the areas of your garden you would like to illuminate and those you really want to flaunt. Perhaps you have an antiquated tree you think requires a dose of atmosphere.
Maybe you think more practically and decide the lines of your pathway need accentuating. Whatever you decide, Bondilights, the leader in garden lighting design and ideas, has the look for you. Contact our highly qualified team and we will guide you in your plight to transform your garden and give it that all-important glow at night.